27 July 2005
Sunday

I love talking to you. It's fantastical how our conversation could start from the train station, and end at the interchange when your bus approaches the bay. How we could mull over a plate of my favourite Indian Rojak, and then, share, over hot peppermint tea and latte.
We talked about, Life, essentially. Our lives. And sometimes we dreamt, about how we'd have a cafe in the corner of the neighbourhood. The dream would be kept in check.
There is so much more to the conversation than just words. It's the friendship that I'm so glad I've found. And I'm so blessed.
So blessed.
Wednesday, today
I feel free talking to you. And at times it's almost hard to accept we actually are blood relations. So we're running nowhere else from each other.
I always liked staying over at your place. (Your mom's culinary skills probably contributed to that.) Your mom always brought us shopping, and we'd both be engrossed in the toys section, afterwhich your mom would ask if I'd like to get an item. You always chose my presents, one of them, I remember, 'Pocahontas Face Paint' I used for Drama Festival.
Then you grew angsty and fiery. And there was a period you probably hated me. I don't recall the turning point, but we started talking again, and we never stopped.
Like today.
I can't exactly recall in detail what we chatted about, but after we went out, I felt thoroughly rejuvenated.
*


I love taking Bus 36 home because it speeds across Benjamin Sheares bridge that overlooks the Singapore River and the Marina Waterfront. I can see Raffles Place, Fullerton, the Esplanade from it.
I don't know why, but the city's skyline, together with the humming of the engine and aircondition, have a calming effect on me.
D woke up at 7/27/2005 09:35:00 PM [comment]
* * * *
25 July 2005
Are there people you met in Life you want to keep forever?
I found mine.
I'm just starting to get used to all these.
D woke up at 7/25/2005 12:49:00 AM [comment]
* * * *
17 July 2005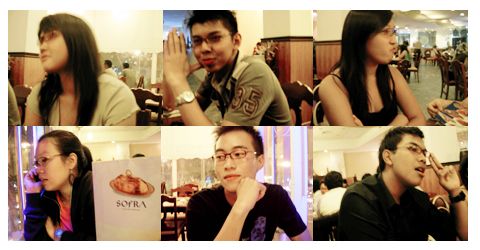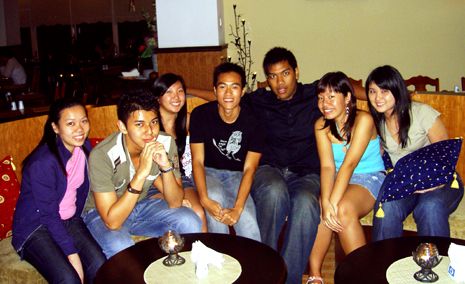 After dinner at Sofra with the Vases and the dramatic falling-on-the-mud event by the owner of the pair of glasses we all took turns to wear, we headed off to our next destination.
I wished we could have spent more time together.
It is after the conversation with Jian Lun last night that I realised the feelings of jealousy and resentment and at times, frustration, was not exclusive to me. So everyone else feels it. Which explains the ambiguity and ambivalence, thus assuaging the assumptions I had.
I wished we could have spent more time together.
I'm listening to Julie Delpy sing An Ocean Apart. It's such a beautiful song.
D woke up at 7/17/2005 09:55:00 PM [comment]
* * * *
16 July 2005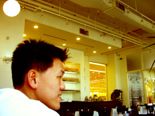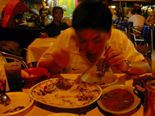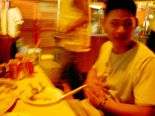 Because the month of supposed rest is ending.
Because we're on a spending spree.
Because Malaysia is so pretty and so huge sometimes I feel like moving up North.
Because chewing gum is not banned and smoking is cheap.
Because DVDs are cheap.
I wished days like these lasted forever.
I learnt this: you can't compensate sleep. Especially when you're not living alone and your neighbours are renovating.
D woke up at 7/16/2005 03:43:00 PM [comment]
* * * *
13 July 2005
It's 6a.m. I'm outside. And I shiver. It's as if Autumn came and stayed over for the night. So it didnt happen the way I remember I dreamt it, but it happened anyway.
I can see the dark clouds gathering already.
We left Ash's place past 6a.m. last Saturday morning. And on the way home, I could see a side of the sky basking in a warm yellow hue, and it spreaded slowly across the entire neighbourhood. The neighbourhood had just woken up. And I was just going home.
"
Inside that darkness, I saw rain falling on the sea. Rain softly falling on a vast sea, with no one there to see it. The rain strikes the surface of the sea, yet even the fish don't know it is raining." - Haruki Murakami
D woke up at 7/13/2005 10:22:00 PM [comment]
* * * *
05 July 2005
A new site with the same look and all. Nothing's changed, just the URL. And it's for this dearest friend, whose browser insists an exclamation mark is erroneous.
A quick recap on the past three weeks or so, in pictures.
I'm a photo whore, an understatement.
They've found each other.
BOOZING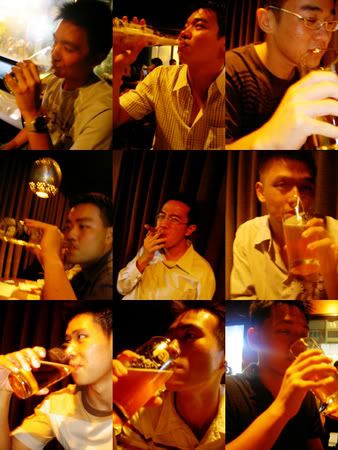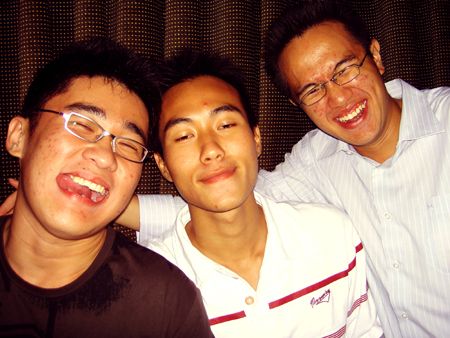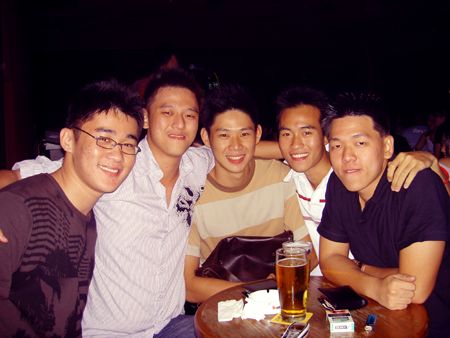 Hanging Around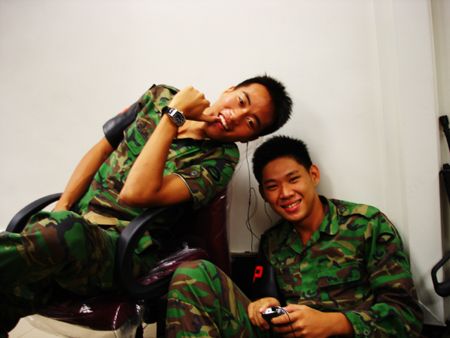 D woke up at 7/05/2005 11:07:00 PM [comment]
* * * *