31 October 2006
Alfian chasing the sun. (Or my dog.) I really cannot tell.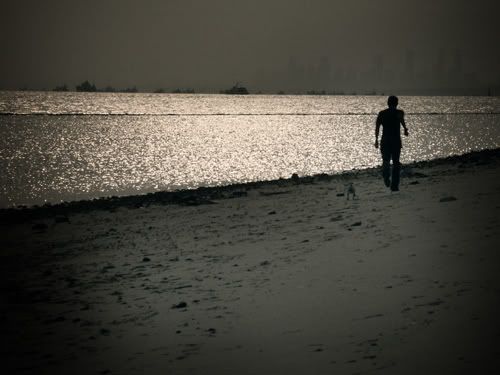 I am a great procrastinator.
D woke up at 10/31/2006 11:46:00 AM [comment]
* * * *
29 October 2006
I am listening to Sarah Vaughan's "Misty" now; a record I took from Boo's house last night.
My weekends and weekdays are too alike I cannot differentiate between the two now.
I managed to steal in a few moments to read poems. Here's part of one (with a picture I snapped yesterday):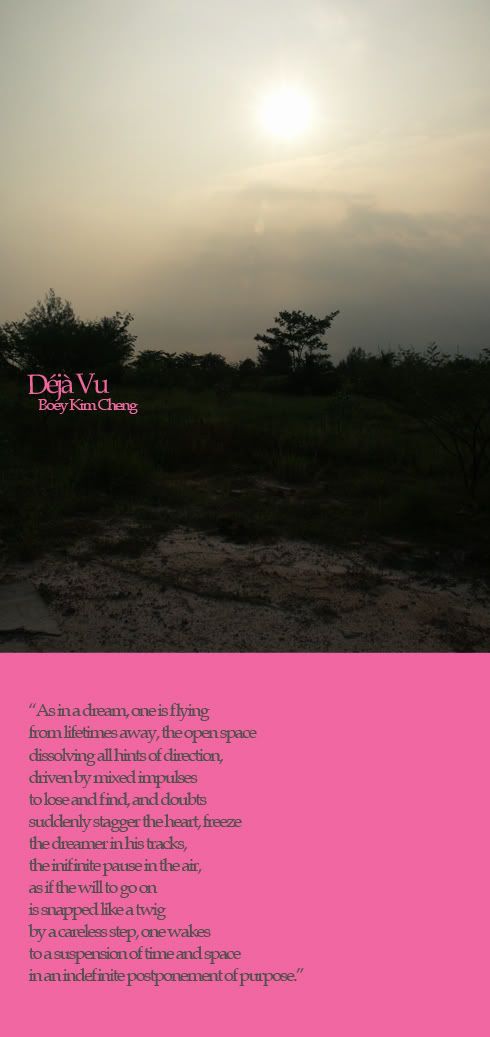 D woke up at 10/29/2006 11:24:00 PM [comment]
* * * *
One picture before I head off to bed.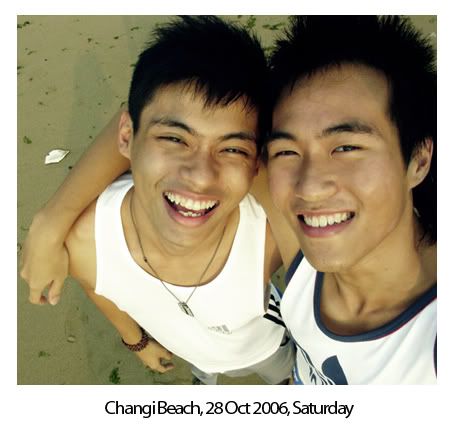 Katong Fugue. Woot!
D woke up at 10/29/2006 01:08:00 AM [comment]
* * * *
26 October 2006
Chee and Boo!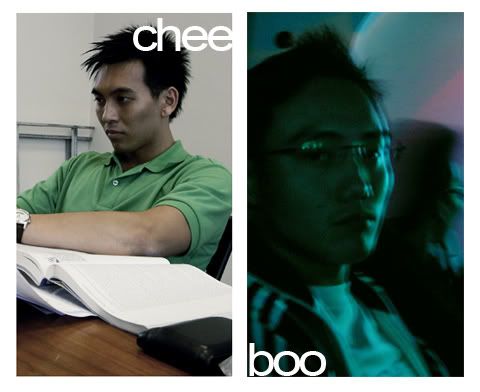 D woke up at 10/26/2006 11:55:00 PM [comment]
* * * *
22 October 2006
This is such a summation thing:
I am going descibe the past week.
First it was the hellish four days that were fatally bulleted with deadlines and when Thursday evening finally came, I was so relieved and I felt so light, that at dinner and then subsequently dessert with Alf, Jun Feng, Luke, Alex and Ting Li, I was blurting non-stop and just so high.
On Friday, I decided, I have to take a break. So we decided to view the Biennale, which was wrought by our shopping trip. So we only managed to visit the cafe where Yish held his launch and we were treated to LAN CAI HE(!!!!!) and other amusingly performed poems. And then followed by pubbing, and clubbing all free.. ah, the privileges of being a student.
Had an extremely fun studio night at the Radio Station last night. If you don't know, yes, I am on air infrequently on Radio 100.3Fm.
Moments in between:
(1) Alex and his student who thinks Alex is nineteen. Blind kids and instant facelifts.
(2) Ting Li told us stories of her brother who couldn't control his diarrhea. We had great laughs about that. And then, she showed me pictures of her brother. And he turned out to be my camp mate. Eerie.
(3) Alf's surprise DVDs.
(4) Luke and Lilo. Just the entire Thursday night, which is still a little enchanting.
(5) I chose all the songs on last night's show. "Lush Life" by Al Somma was one of the appropriately timed ones.
(6) Pre-Show: Met new friends!
D woke up at 10/22/2006 04:30:00 PM [comment]
* * * *
15 October 2006
Katong Fugue
These are shots taken randomly on the 'set', whilst filming and resting. Only the small boy and Swee Lin are supposed to be in the reel. The funky shaven lady is the producer, Ting Li, and the young girl, the boy's real sister. And of course, there were many other people on set, like Nick, the art director, Lilo, my dog, and the boy's family members!
These are not production stills. All kay-poh shots by me.
So here it is, a very unofficial image galore!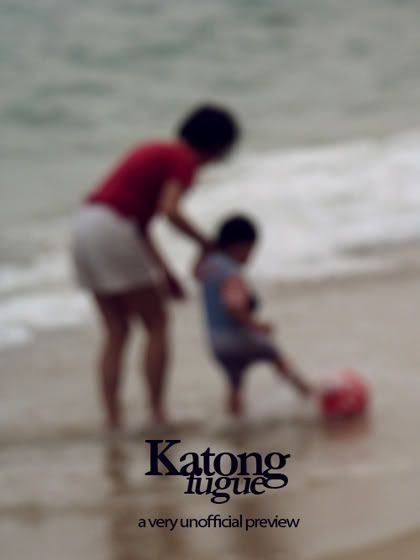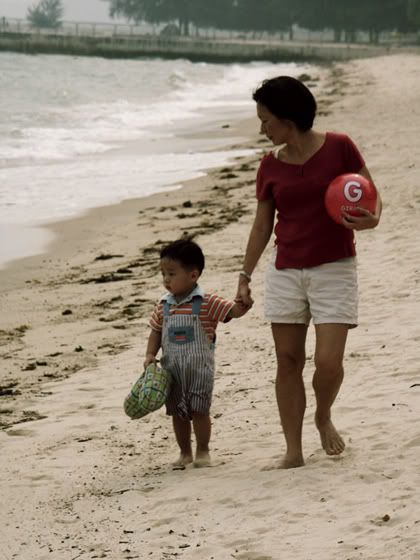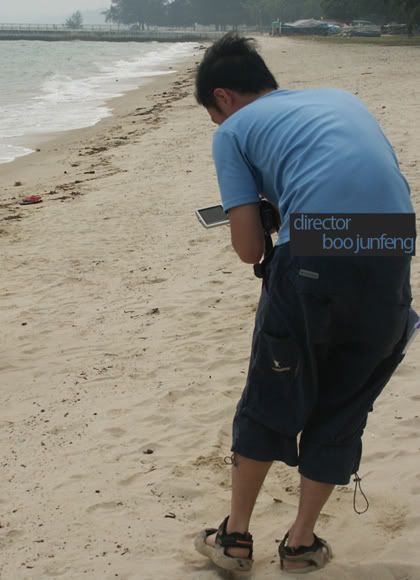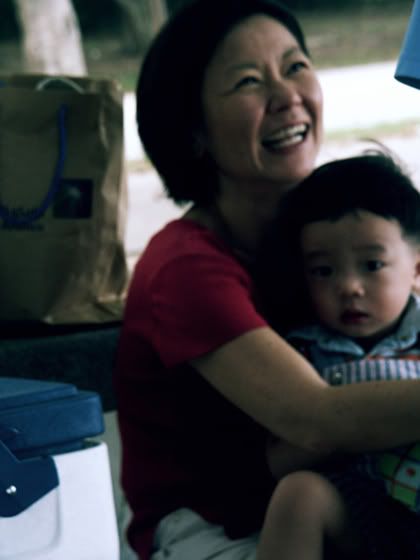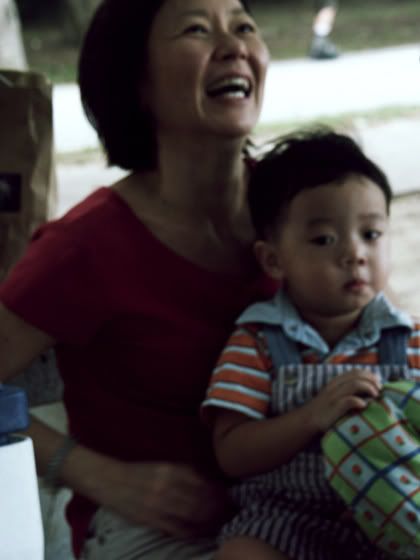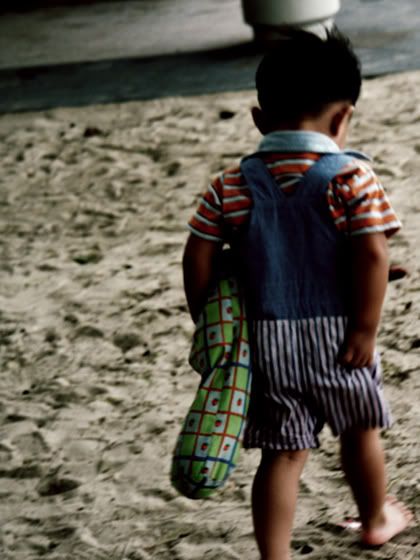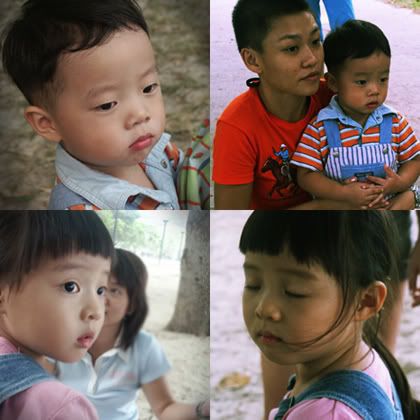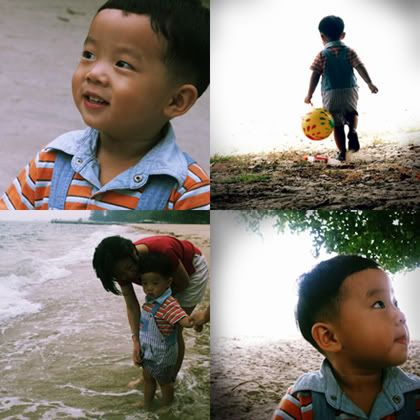 I have thus made the film look rather depressing.
In any case, here is one shot that might really be used in the film. It's been purposely re-coloured to look like it's been taken years ago.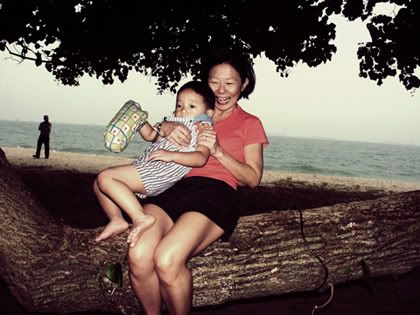 Okay, The End.
I can't wait for the next shoot date.
D woke up at 10/15/2006 10:02:00 PM [comment]
* * * *
13 October 2006
Driving home at night always puts me back in balance. It seems, that I've been caught up with this pursuit of A's in school, that I've forgotten what it is like to be crossing my fingers and hoping to pass – which was what I did for most of academic life insofar. Hell, why do I even bother to be pressured into competing with the others now?
I was listening to a CD that I burnt that day, and one song caught me tonight. It's "Running Away" by local band, Electrico. I do not have a penchant for lyrics, but this song made me recall how Jonathan Leong was singing it with so much conviction in one of the Singapore Idol shows. And how, while he lived out his dreams, I was cowardly driving and racing with others on this road I think I am simply not best accustomed to traveling.
A recurring thought: to drop what I am doing now and to pursue film school next year.
And over dinner with Boo on Monday, I told him, "Maybe I'd be really rich one day, (doing business), and I'd build this really huge performance/gallery/film space and the rental would be just enough to cover utilities. It'd be my contribution to this financially disabled arts community."
I have been incapacitated by my indecisiveness so many times, that, this time, I know not if I should follow my instincts, or let this
degree buoy
float me somewhere.
The future is exciting, to think about.
*****
I love the perceptivity and sensitivity of my dog. She knows if I, or anyone else, were going to scratch her tummy or rub her neck; always in need of attention and love, but finding it in ways that are neither non-violent nor aggressive. She would bark at a distance when she senses my arrival, and would chase me as we are separated by a fence as I make my way to a bus stop. Sometimes, she would sneak out of the gate, and I would have to try to lure her back in: a real test of my patience. She would wag her tail and attempt to crawl into the house through the metal gate in the garden, while I studied at the dining table. She could; but she knew better.
She stretches herself, as she wakes from her nap to greet her similarly sleepy human friend, who had gone out to empty the trash, tired and drained from the constant self-reminders to be conscientiously at work. She lies down on the tiled floor, just beside the tyres of the parked car, as I walked towards the rubbish bin. She trailed me in this whole mindless process. She must be going back to sleep now.
Enveloped by the chill of the night, I remember telling Loo that dogs must have really short term memories. How else do they survive the lassitude of these monotonous days? And I started counting mine. 7 more weeks, and it would be a month-long break.
D woke up at 10/13/2006 02:08:00 AM [comment]
* * * *
05 October 2006
Two Days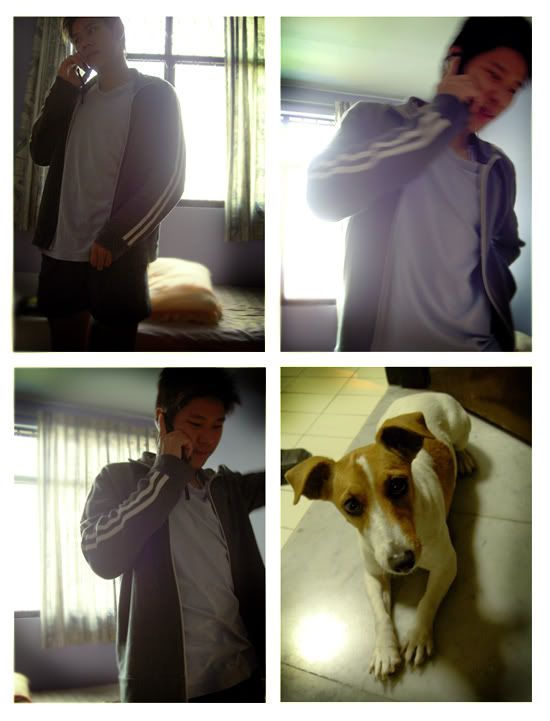 Mid-Terms Week!
Three movies to watch! (Scoop. American Dreamz, Time, by Kim Ki Duk)
Supper!
Film Fest!
Radio!
B-U-S-Y!
D woke up at 10/05/2006 10:19:00 PM [comment]
* * * *