28 July 2006
กรุงเทพมหานคร อมรรัตนโกสินทร์ มหินทรายุธยามหาดิลก ภพนพรัตน์ ราชธานีบุรีรมย์ อุดมราชนิเวศน์ มหาสถาน อมรพิมาน อวตารสถิต สักกะทัตติยะ วิษณุกรรมประสิทธ
ิ์
The above is Bangkok's full name. It is read: Krung Thep Maha Nakhon Amon Rattanakosin Mahinthara Ayutthaya Mahadilok Phop Noppharat Ratchathani Burirom Udom Ratchaniwet Mahasathan Amon Phiman Awatan Sathit Sakkathattiya Witsanu Kamprasit.
I've just returned from a shopping trip that is as extensive and tedious as the name of Thailand's Capital.
We checked in to a ghostly hotel on the first night, which we grew to like and appreciate in the next nine days. We lived amongst Pakistanis, mainly, and there were very few people to remind us of our own nationality.
On the first day, we took a boat ride down Chao Phraya River, punctuated with stop-overs to temples.
On the boat: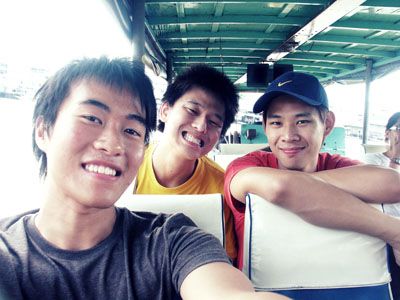 We visited The Grand Palace, which is indeed the highlight of Bangkok. I'm amazed by how the Thai people can use so much gold and precious stones with clashing colours for their buildings and yet they can look no less sophisticated. Their architecture is immaculate.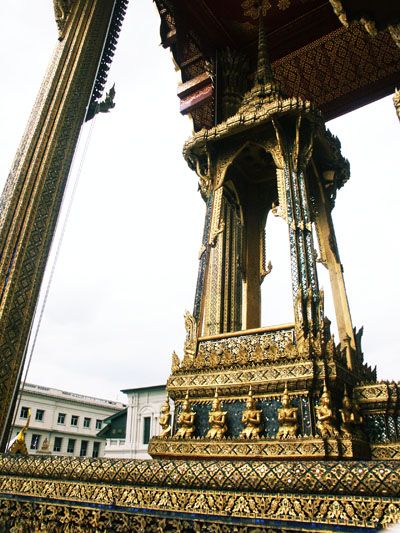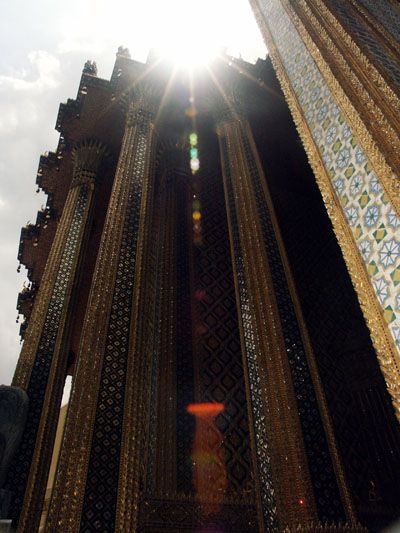 And then our crazy shopping trips began.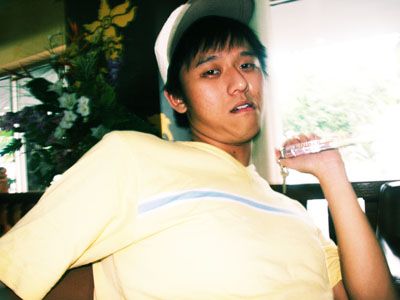 This is our guide, 'Kum' Seah (which means Thank You in Hokkien). He insists that no trip to Bangkok is complete without a pilgrimage to a seafood restaurant which apparently serves delicious suckling pig. He sulked when we almost missed out on the order. But he got his wish in the end, though not as delicious as we had hoped it would have been.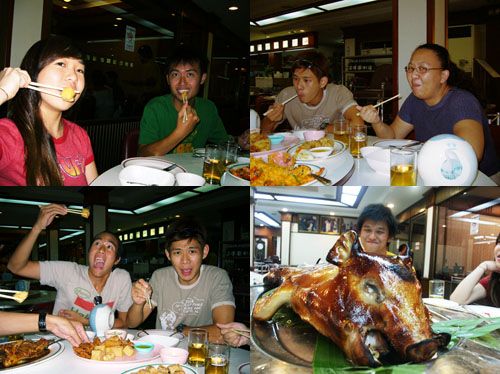 Those are my Bangkok travel mates. Kum is extremely pleased with his roast pig.
Bangkok is teeming with people. And cars. Bangkok also has the most beautiful skies I've ever seen in a city.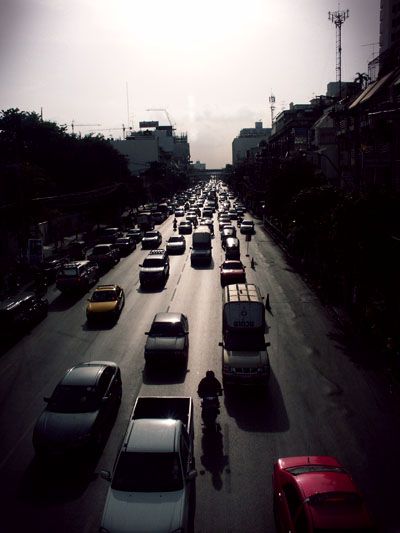 There were so many people at the bus stop. You might want to notice the amount of people wearing yellow. They were wearing yellow to cheer up their king who had an operation on the day. The patriotism was overwhelming.
If someone in Singapore has a heart bypass again, we shall all streak or wear brown to anger him.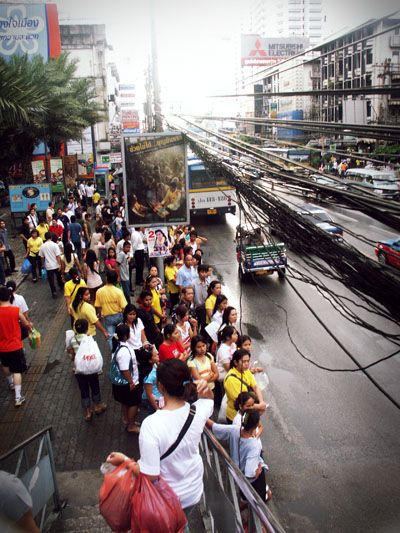 No trip to Bangkok is complete without (1) Visiting the Four Faced Deity (2) Taking a Tut-Tut ride (3) A Pilgrimage to Chatuchak.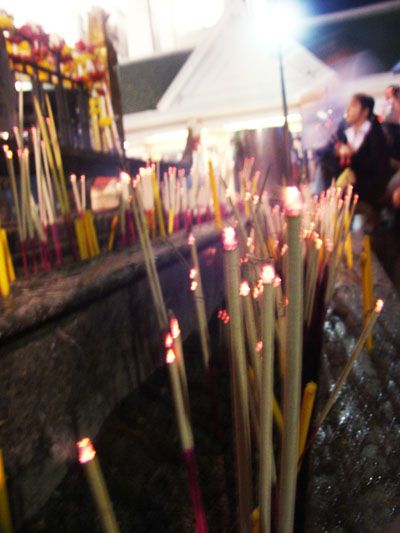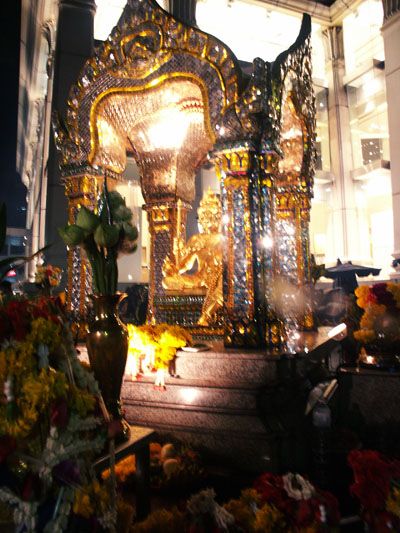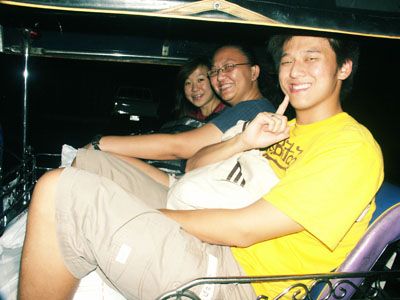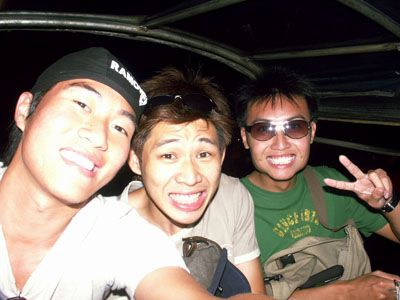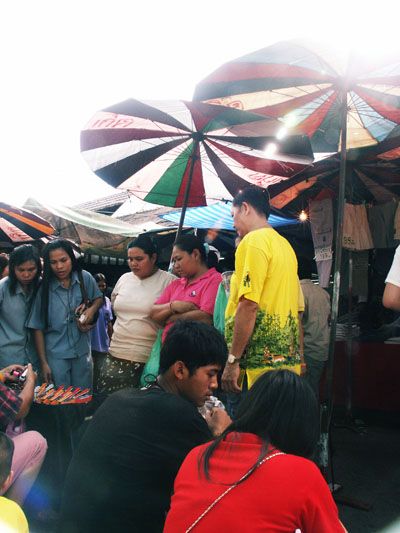 We clubbed for two nights.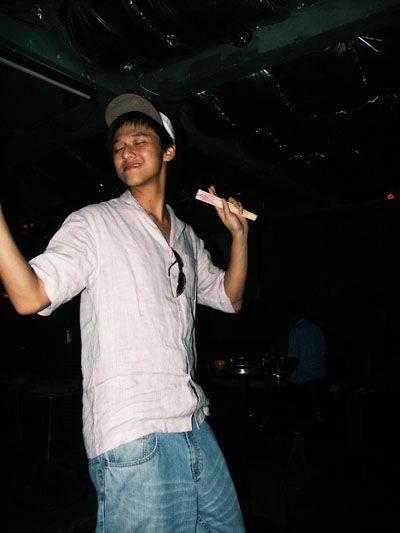 Loo copied his high.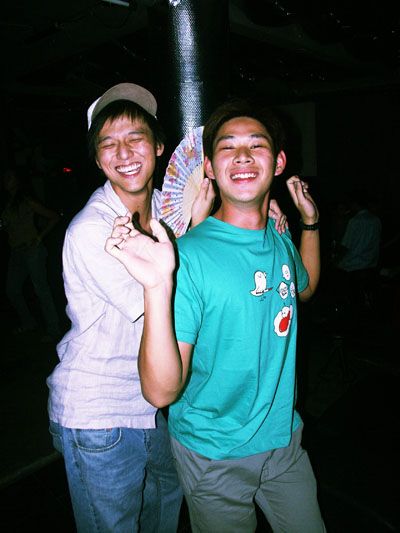 Random pictures at the club: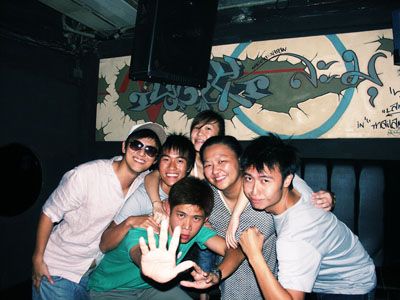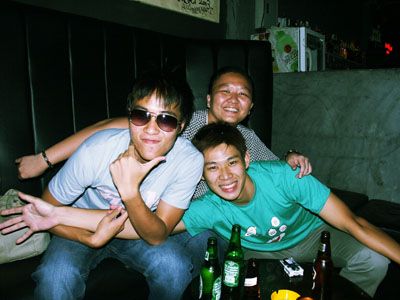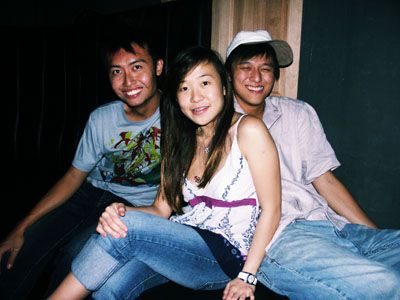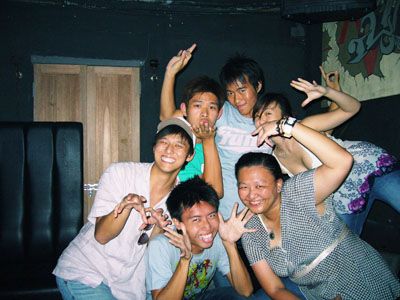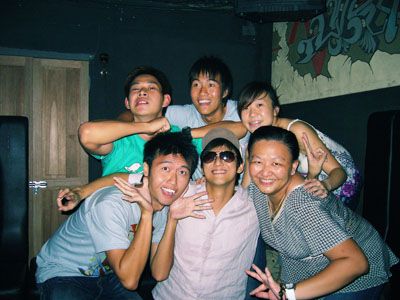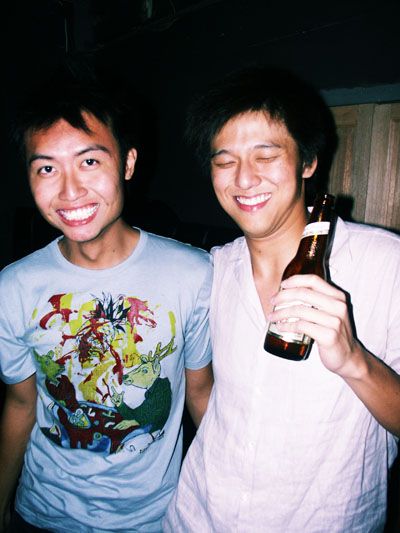 The extent of our drunkedness: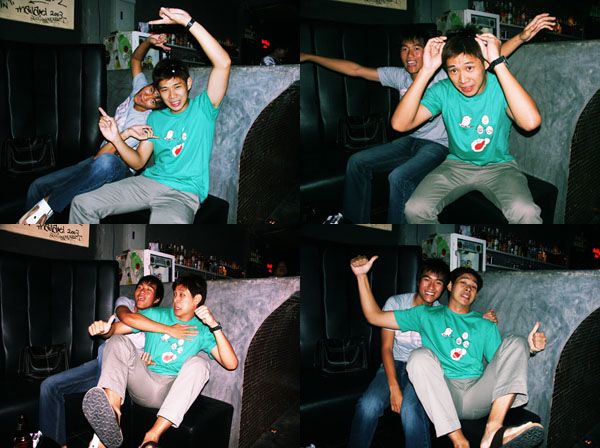 My interpretation of myself at a club: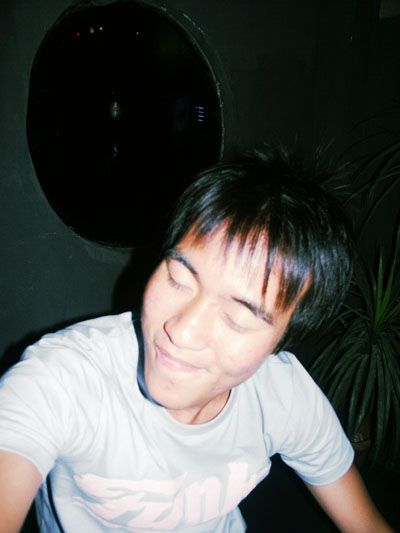 Loo's interpretation of me: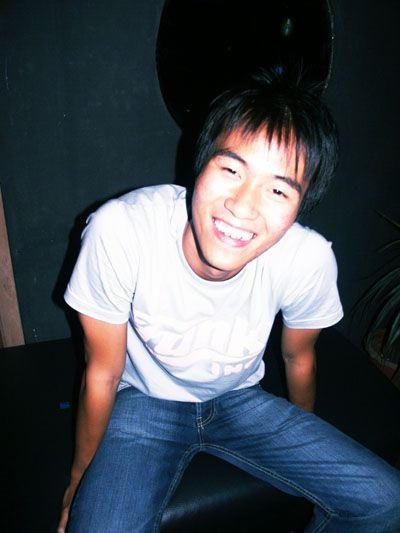 At Khao San Street, we saw a person selling many many balloons.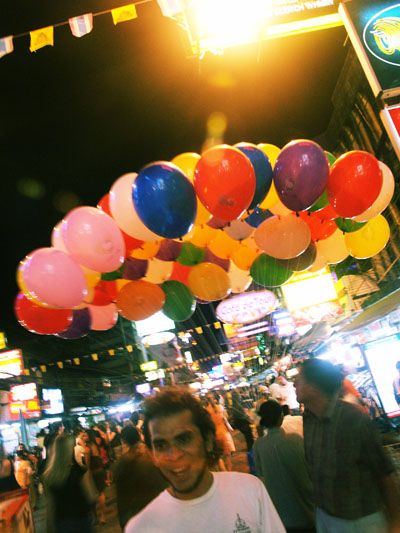 Now, some feeling feeling shots.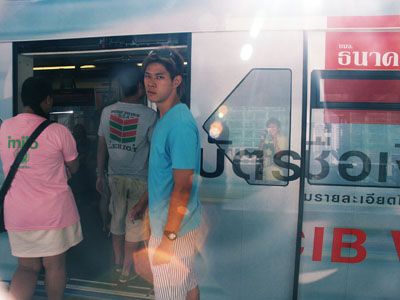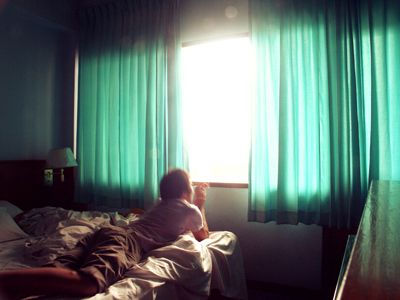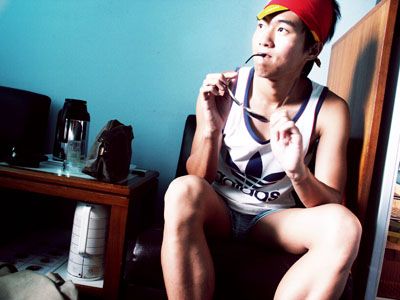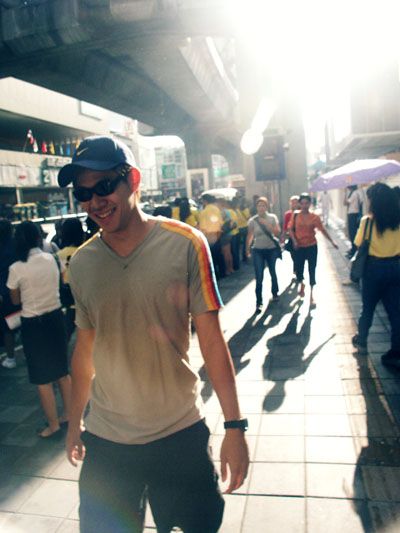 Bye bye Bangkok.
I'm suffering from a post-trip withdrawal now.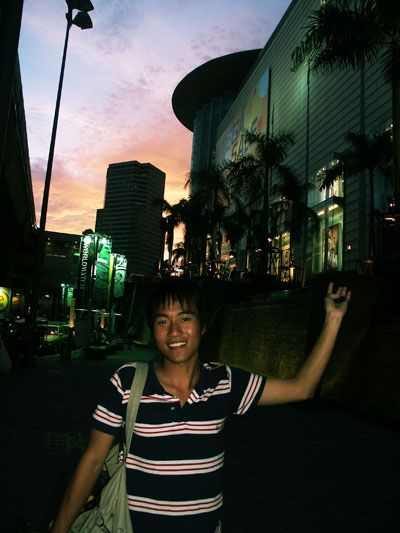 D woke up at 7/28/2006 08:21:00 PM [comment]
* * * *
19 July 2006
Bangkok, Here I Come!
*picture by www.ipeka.com
D woke up at 7/19/2006 02:04:00 PM [comment]
* * * *
17 July 2006
Spillovers again!

I'm quite happily 90% done.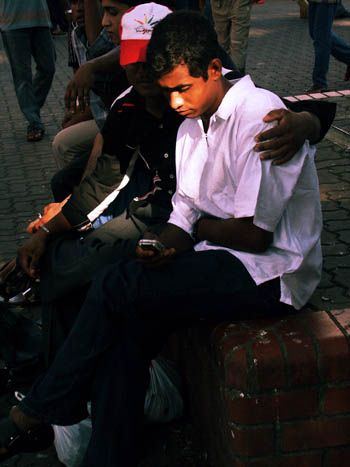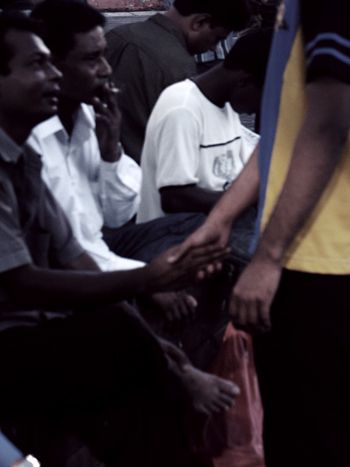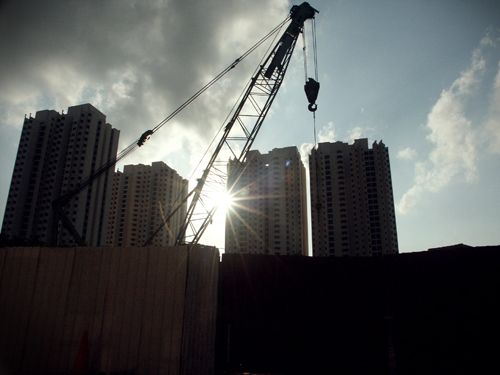 D woke up at 7/17/2006 12:19:00 AM [comment]
* * * *
16 July 2006
I was initially arrested by a rainy afternoon lethargy. I was almost too tired to drag myself out to Alfie's dinner. I went. And I'm glad I did. I'm so fortunate to know these people.
I remember the conversations at Ash's balcony on Alfie's 18th, the taxi ride home, Alex's signature long hair, my "reconciliation" with Jianlun, David and his "YB Fetish".. And now, he's 19. A year, but so much has happened.
School's beginning - a fact that is becoming more true. The matriculation card in my wallet was always just a discount/privilege card. But now, I've to attend talks and sign up for this and that and.. the pace, I must say, is rather demanding.
I'm really looking forward to Bangkok.
D woke up at 7/16/2006 12:13:00 AM [comment]
* * * *
14 July 2006
There are so many ways to look at the city. Sometimes it's the fifteen minutes before you land, where you figure your house looks a lot like a Lego block. And then, the nights you travel speeding across the highway where the city is so quiet quiet quiet laying fast asleep. Previously, it might be the yellow green you see on the designated military training areas that have spaces so wide so wide you feel you could jump up and be absorbed and cuddled into; the skies lit up by stars or satellites, satellites or stars. More recently, the scorching sun that makes all the whites around you bleed; the cloudless colourless sky.
Now, it's falling asleep and imagining a city where you could really fly. And two pillows on your bed.
D woke up at 7/14/2006 04:16:00 PM [comment]
* * * *
07 July 2006
These are spillovers from a project which has been ongoing since Jan. I'm 30% done now. Found a few locations and will see if they work out next week. Meanwhile, these are my friends who were bored to death while I tried to find the right angle (I never did). One is nursing a heartbreak: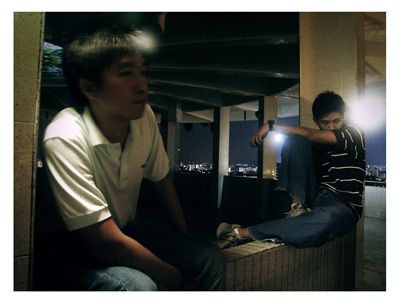 These are spillovers: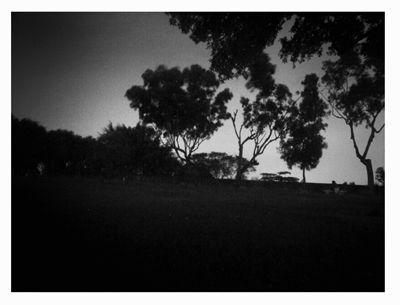 D woke up at 7/07/2006 01:38:00 AM [comment]
* * * *
01 July 2006
At this hour, my room is soaked in the most natural blue – an unadulterated hue stolen from the horizon that is in passing at the hour. In a minute, the land will be dark and it would be night. In this reverse of dawn, I'm transported back into the mornings of my childhood. I'm asleep, and I'm waking up in both. In this current dusk, I hear the sounds of the buses that pass by on the main street, motorists that return home (for my street is one way) and leave trails of headlights on my wall mounted cabinets. The fan whirs. Loudly. And quiet. In the morning, I suppose, the hue remains, the buses too. The difference being, the scooter that delivers the morning's newspapers; the hard slam the thick pile of censored selected information makes on the tiled floors in the neighborhood, resounding, almost a rhythm – the Indian man smiling, as I walk out of the gate, waiting for my school bus. Good morning, child! And no one says morning beyond child. Both times, I wake up reluctantly. Once out of the parental compulsion to go to school. This current one –hunger.
I have to see Clifford Pier everyday on my way to work. On Tuesday I said to myself I will take pictures of it. It's so beautiful, that I'm sure it would be destroyed. On Wednesday I saw red-white (lacking blue) plastic tapes that sealed the entrance. Commuters ignored this fragile demarcation and still used it as a faster route to Change Alley. We stepped on it. On Thursday, the metal barricades went up. My nightmare came true in two days. Today they've painted 'Up For Tender' in a bright purple green and blue.
If a building can be gone like this, I thought, everything can.
Boo says, "…It's sad. People and places alike have to 'reinvent' and stay 'relevant'. If it's any consolation at all, at least it'll have a new lease of life and will be remembered in a different light, unlike many others that have vanished from the face of this earth physically and in memory."
A facelift. Ah, a facelift.
D woke up at 7/01/2006 08:25:00 PM [comment]
* * * *