28 November 2006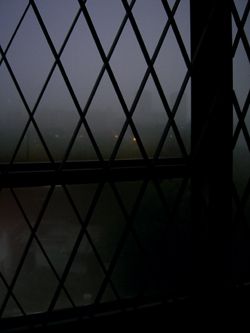 "I think you've probably felt things you've never felt before, and realised that not to hurt someone means more than tact, or diplomacy, or white lies; that it is a unique form of suffering. Take care love."
Alfian
D woke up at 11/28/2006 10:24:00 PM [comment]
* * * *
21 November 2006
I cannot take the heat of the day; falling asleep on the sofa while paragraphs describing
promissory estoppel, restituition, consideration, reliance loss, remoteness
ring in my head constantly. Yes, a lullaby. It's not the worst - I haven't started on my Statistics.
I love the way Chet Baker sings as if nothing mattered.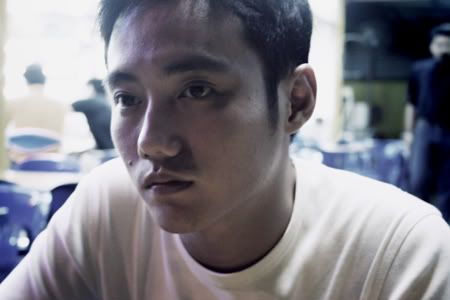 It is 9 degree celsius in Munich, where Boo is at now. He's shopping for Birkenstocks and I am 7 hours ahead of his time.
It's nearing 7 now in Singapore. My favourite time of the day. 0700hrs and 1900hrs - where Singapore grows dark, or begins to light up. It's crazy to drive at these hours with my astigmatism because the sun bleeds out all the whites and they become unbearably glaring. But when I do drive, I always wished I had a third hand with a camera. And I could snap vigorously, as I believe this City is the most beautiful at Seven.
D woke up at 11/21/2006 06:26:00 PM [comment]
* * * *
Eventually
- a Creative Thinking Art Installation Project that bceame a Performance Art Project.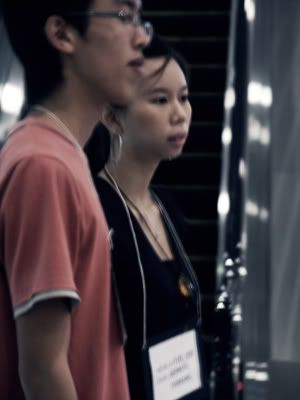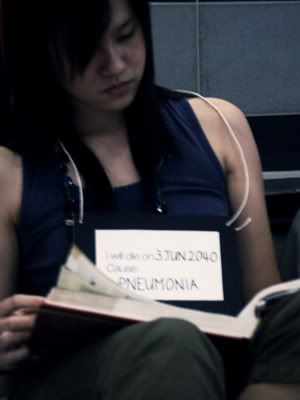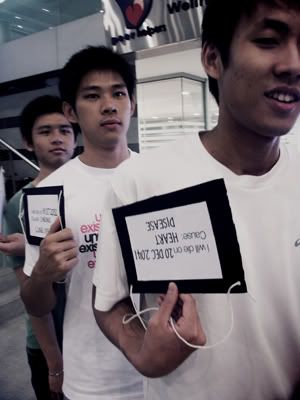 I'm so glad it's over.
D woke up at 11/21/2006 12:22:00 AM [comment]
* * * *
18 November 2006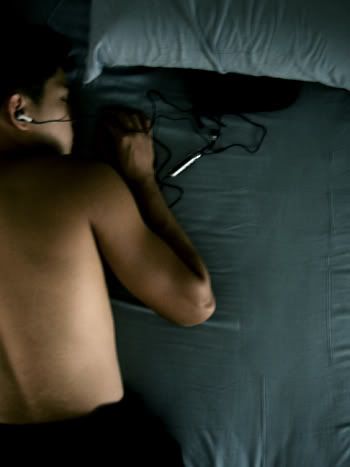 Dear Loo,
Being an East bunny, if it wasn't for you, I wouldn't have known that the West of Singapore existed. That is amongst the many other things which I've learnt from simply befriending you. For one, I've learnt to be less careful and afraid: thus daring and, maybe, brave. I've learnt that mistakes may be made; but they're not without the ensuing process of learning. We are so different; yet we are so often mistaken to be the same. Do you remember the aunty at the petrol kiosk who asked if we were brothers?
I do not know what spurred me to write you a letter. I couldn't sleep on the train ride home. I was afraid I might bump my head onto unknown chests. It just led me to think that perhaps, you might be the only one who would empathize with this thought and very definitely laugh along with me. When we made jokes in camp, everyone else just stared.
I don't know if school had done anything to you, but for me, it had led me to believe in the intensity of our bond and the naturalness of our friendship, unembellished by the common hypocrisy and competitiveness of our fellow peers. When I witness the invisible gore and bloodshed in our classrooms, I relish in the essence of our friendship.
But that is not to undermine the other people in school whom I truly value as well; our group of friends from Rui to Elvin, from Chuan Yang to my own friends like Ryan.
I guess this is addressed to all of you: my friends.
I'm tired and drained. But you guys are still hanging around and we're still friends. It's what keeps me alive.
Dong
D woke up at 11/18/2006 05:57:00 PM [comment]
* * * *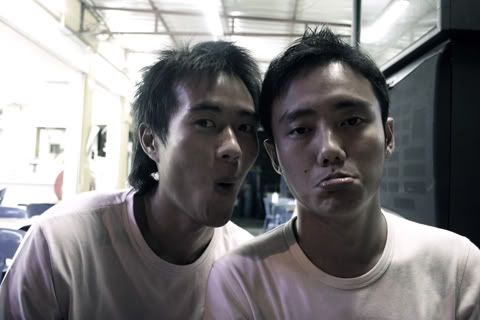 D woke up at 11/18/2006 12:35:00 AM [comment]
* * * *
17 November 2006
不見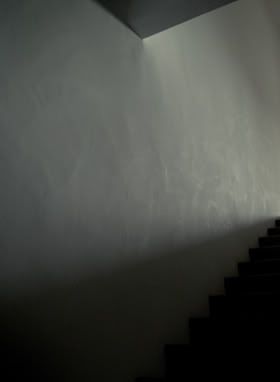 D woke up at 11/17/2006 04:37:00 PM [comment]
* * * *
11 November 2006
I always thought Boo looks Korean.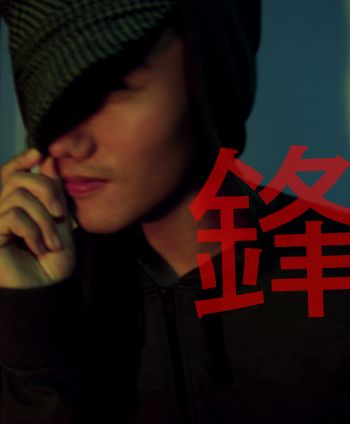 And Loo, Taiwanese (sometimes, Japanese):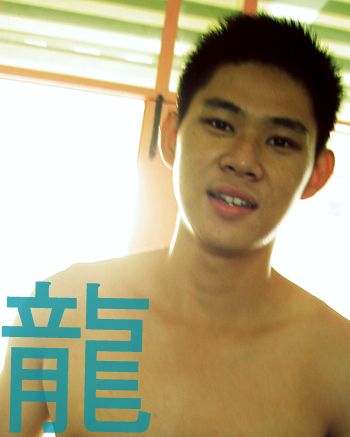 I'm feeling lazy, yet again.
D woke up at 11/11/2006 02:12:00 PM [comment]
* * * *
06 November 2006
Three Nights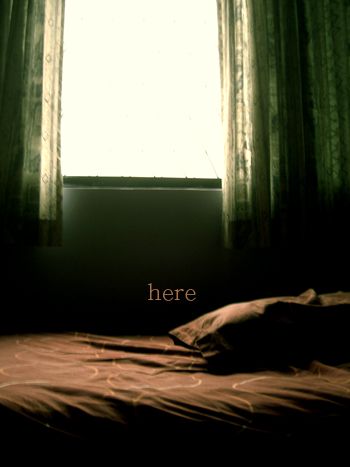 Three nights. The first: Cordial. The second: Contemplative. The last: Close. And cherished.
I am asleep; my head nested between the pillows. You are near; your breathing patterns audible to my ears.
Open your eyes, open your eyes.
Stare ahead, stare ahead.
We're playing this neutral. We are.
\\Something magical.
I am listening to yet another CD from Boo's place: "Erik Satie's Piano Music".
D woke up at 11/06/2006 04:22:00 PM [comment]
* * * *
05 November 2006
I've really fallen in love with film-making!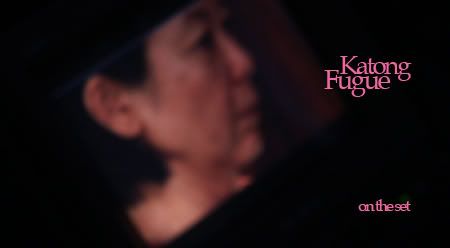 Shots taken during the shoot of Swee Lin, an incredible actress: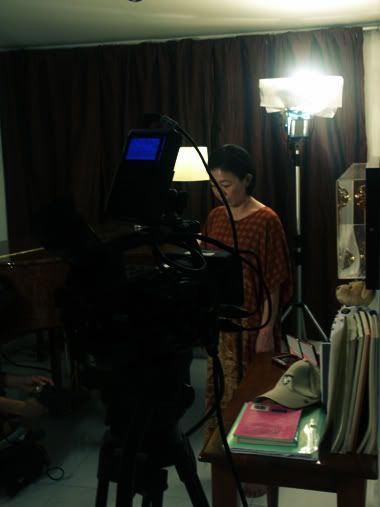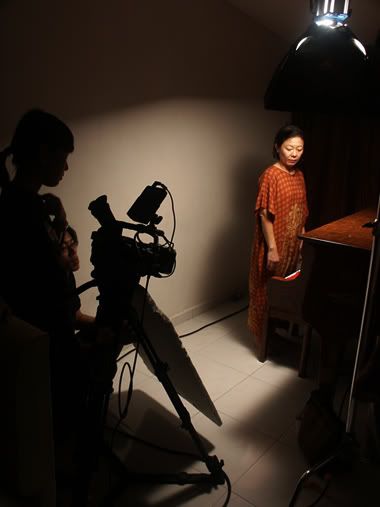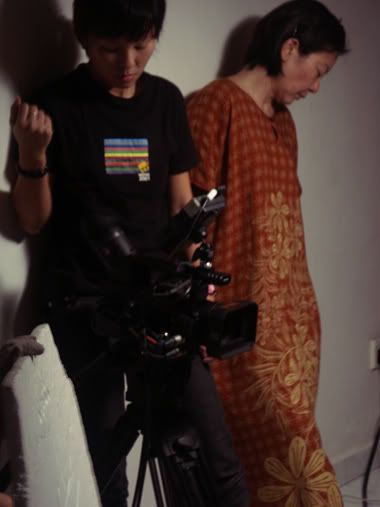 Some of the crew, Jennifer the Script Supervisor and Nick, the Art Director: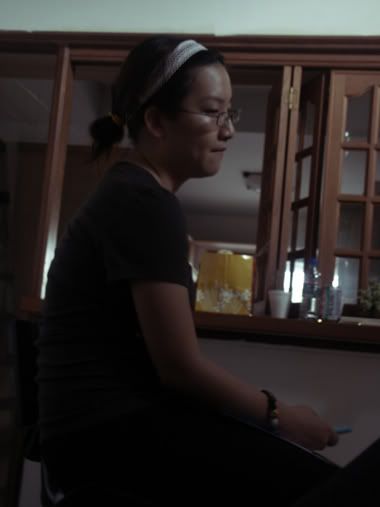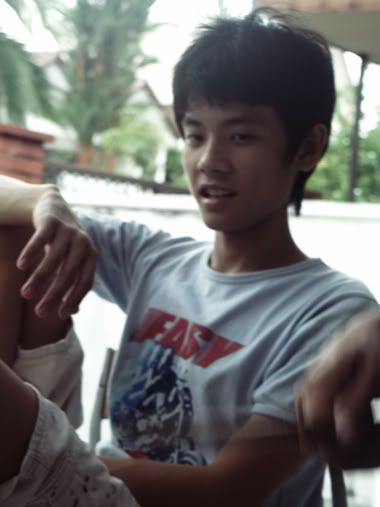 This is almost everybody on set, trying to retrieve the red sash and a wooden chopstick that had slipped into the baby grand.
Thank god it did come out in the end.
An attempt at doing production stills: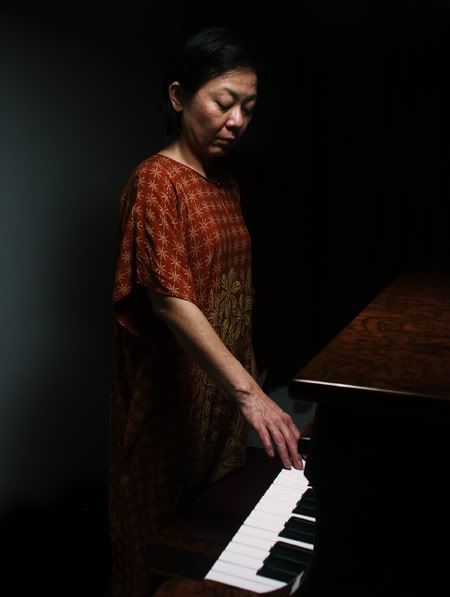 My favourite polaroid. It's really the same picture flipped over.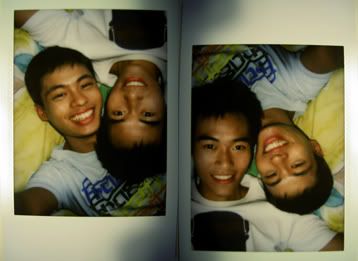 Boo said he's never had a happy shot of himself taken by Monica, the on-set photographer. So I had to take happy shots of Boo, somehow. And I had more than one, so here we go, Boo's portfolio shots: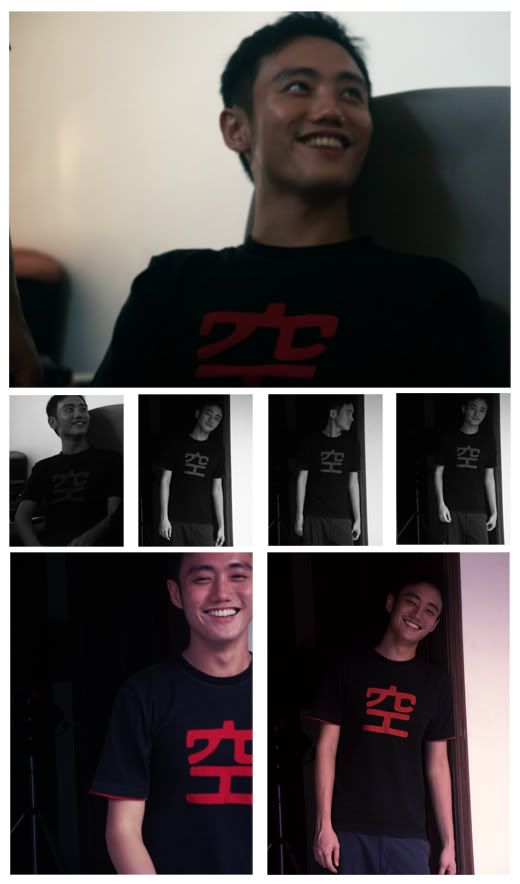 Boo can probably never wear this t-shirt ever again.
I really miss being on set.
D woke up at 11/05/2006 04:32:00 PM [comment]
* * * *