18 September 2005
SUNNY BUMPING BANANAS
Having bought The Wayward Cloud off YesAsia's shelves, I really had to watch my spending. SO my best buddy and I poured over the list of possible activities and decided to be BEACH BUMS for a day! Well, half a day, technically.
It was my shutterbug dream come true: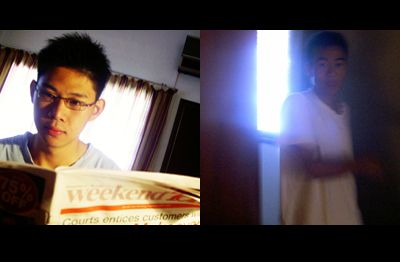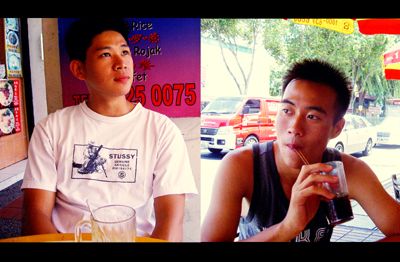 I capsized (many many times) in the sea. And we 'dived', well, I tried to. Balance is not my cup of tea.
I don't really know what to write because I'm rather stoned and superficial now.
D woke up at 9/18/2005 12:58:00 PM [comment]
* * * *
04 September 2005
I like how it is now; an approaching storm, an excessively dark sky that emulates the night, turning the flourescent lamps off on purpose, leaving only the flicker from this huge computer screen and hearing only the sound of the keyboard. Because, you see, the storm has not arrived and it was sunny a while ago: this period in-between - quiet and neutral, and everybody, just waits.
It has begun to rain.
The past two weeks had been trecherous. I must have covered more than 110 kilometers on my feet. Running, route marching, running, route marching, they alternate, though not neccesarily in this order and sometimes in a doubly dreadful combination. I always laugh at war books that propagate death to be glorifying and think they have exaggerated when they say seeing their buddies die in combat makes them not want to live anymore; but I take all these back, because it struck me. My buddy fell out from the march, an extremely unfortunate accident, and it was just so depressing. I couldn't understand why, but half the fun wasn't there anymore. The march just didn't seem so complete after it's ended, and the aftertaste less sweet. I guess when it comes to the army, it is no longer just about yourself.
There are many parts from Haruki Murakami's 'Sputnik Sweetheart' that I love thoroughly. His plain, mellow, almost silent prose is touching and affecting in many ways. Here is one:
"And it came to me then. That we were wonderful travelling companions, but in the end no more than lonely lumps of metal on their own separate orbits. From far off they look like beautiful shooting stars, but in reality they're nothing more than prisons, where each of us is locked up alone, going nowhere. When the orbits of these two satellites of ours happened to cross paths, we could be together. Maybe even open our hearts to each other. But that was only for the briefest moment. In the next instant we'd be in absolute solitude. Until we burned up and became nothing."
I tried contracting sore eyes yesterday, but it doesn't seem to be working. So I guess I'll have to see Maju Hill tonight again.
D woke up at 9/04/2005 12:24:00 PM [comment]
* * * *