29 September 2006
Namecards Anyone?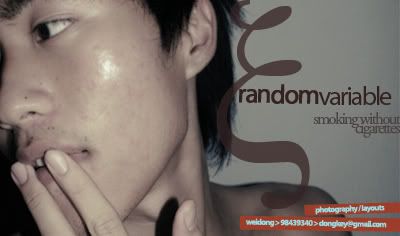 I've decided to finally print a namecard so that the people at Heeren can have proper identification rather than always requesting for my IC.
Okay, but that is when I do get down to printing it now that I have designed it. Heh

D woke up at 9/29/2006 12:22:00 AM [comment]
* * * *
16 September 2006
The man and his ideas. Our country is in such a dire state.
On a lighter note:
How we got to smell like roasted pork.

D woke up at 9/16/2006 11:53:00 PM [comment]
* * * *
14 September 2006
Last Night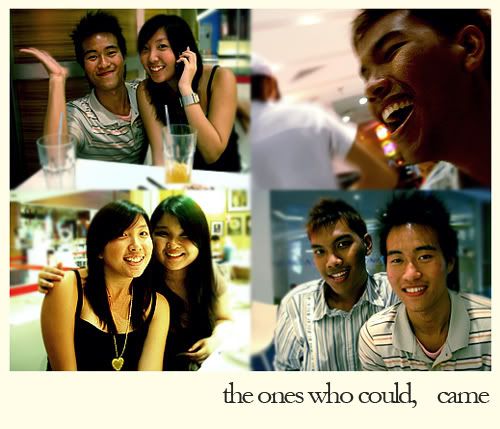 D woke up at 9/14/2006 10:43:00 PM [comment]
* * * *
11 September 2006
Still supposed to be studying. But:
Tagged by Shu
I'm not really well read so I'm going to throw in films as well. Heh.
1. One book/film you have read more than once
Book: "Charlie and the Chocolate Factory" (Roald Dahl)
Films: "Last Life in The Universe" (Pen-ek Ratanaruang), "In The Mood For Love" (Wong Kar Wai)
2. One book/film you would want on a desert island
Book: "Meditations" by Marcus Aurelius
Film: "Blissfully Yours" (Apichatpong Weerasethakul), "The Little Britain Series"
3. One book/film that made you laugh
Book: "Angela's Ashes" by Frank McCourt
Film: "White Chicks" (Keenen Ivory Wayans), "Happiness" (Todd Solondz), "Chungking Express" (Wong Kar Wai), "Water Drops on Burning Rock" (Francois Ozon)
4. One book/film that made you cry
Book: "The Time Traveller's Wife" by Audrey Niffenegger, "Corridor" by Alfian Sa'at, "Sputnik Sweetheart" by Haruki Murakami
Film: "My Own Private Idaho" (Gus Van Sant), "What Time Is It There?" (Tsai Ming Liang), "The Missing" (Lee Kang Sheng), "Talk to Her" (Pedro Almodóvar)
5. One book/film you wish you had written/made
Book: The Unabridged Journals of Sylvia Plath
Sylvia Plath was the hardest to decipher in Practical Criticism lessons because her allusions were often unorthodoxed and remote. Her journals are way more accessible. But that does not mean that it lacks quality. To be able to write like that even in a journal made me wish I could write like her.
Film: "Darkness and Light" (Chang Tso-Chi)
This film is simply mesmerizing.
I feel a literal translation of its Chinese title would be more appropriate to the film: The Incandescence of Darkness.
6. One book/film you wish had never been written/made
Book: Lee Kuan Yew: The Man and His Ideas
Film: I Not Stupid (Jack Neo), The Mothman Prophecies (Mark Pellington)
7. One book you are currently reading.
"Kafka on The Shore" by Haruki Murakami
8. One book/film you have been meaning to read/watch
Book: A Fortunate Man by John Berger
Film: Three Colours Trilogy (Krzysztof Kieslowski)
9. One book that changed your life
Book: "An American Childhood" by Annie Dillard
Annie Dillard's book was the first book I ever bought for myself that was under the Literature section at Borders, when Borders first opened its doors. Her style was so affecting I began to imitate her. Now, metaphors, like waking up to the world, still remains imprinted in my head. Passages, which I revisit sometimes, still strike me with it's brilliance in the use of nature and its allusions to mankind.
Film: "Center Stage" (Stanley Kwan)
This might be the first "arthouse" film I've ever watched in my life. On TV, I remember, and Maggie Cheung sashaying with the lightbulb swinging to and fro. Very beautifully art directed, with flashed Chinese words in between. It changed my life in the way that it made me look at films differently, though I was too young to understand the film. This is one film I would love to revisit.
D woke up at 9/11/2006 10:33:00 PM [comment]
* * * *
09 September 2006
I'm supposed to be studying. But since I'm not productive at all, I decide I have to show everyone where I'm studying. A beautiful room with a view.

All to myself!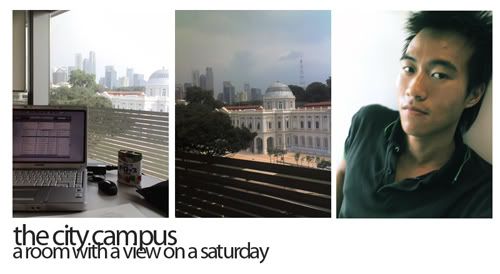 D woke up at 9/09/2006 05:26:00 PM [comment]
* * * *
07 September 2006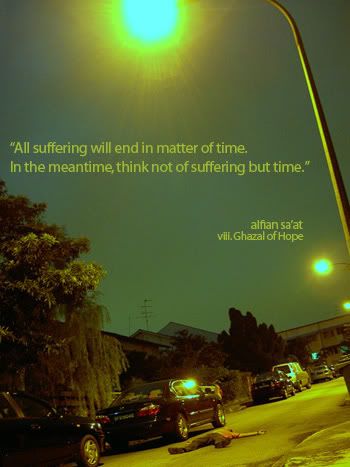 I took this picture a long while ago. Chinese New Year, to be exact. My brother helped to support my camera on the small mini tripod. And I layed in the middle of the road. The colours were tweaked, and it was supposed to be the first concept of This Was Where. But now, I think I've got it. This will be the missing piece. The last image that I was hoping to capture.
It is about a song that belonged to them. They heard it over the headphones and they heard it amplified on to the entire floor. On the taxi, in a singing competition..
Suffering.
D woke up at 9/07/2006 09:43:00 PM [comment]
* * * *