29 June 2008
I'm working on HW's cover for his collection of poetry.
An Outtake (because I think I want close-ups):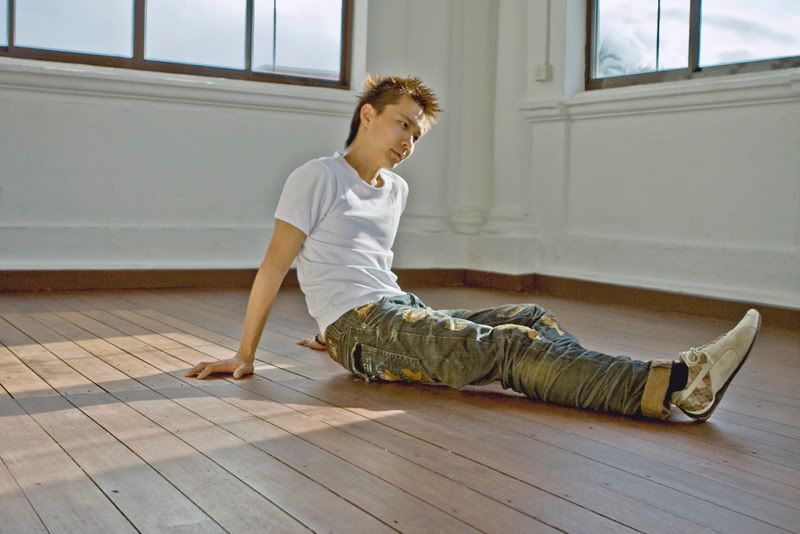 D woke up at 6/29/2008 02:47:00 PM [comment]
* * * *
24 June 2008
Three Steps to a perfect birthday surprise.
(Shot on a Muji Disposable)
1. Burn candles for a very long time while waiting for Surprised's arrival.
Shout "Surprise!", and Surprised pretend to be surprised.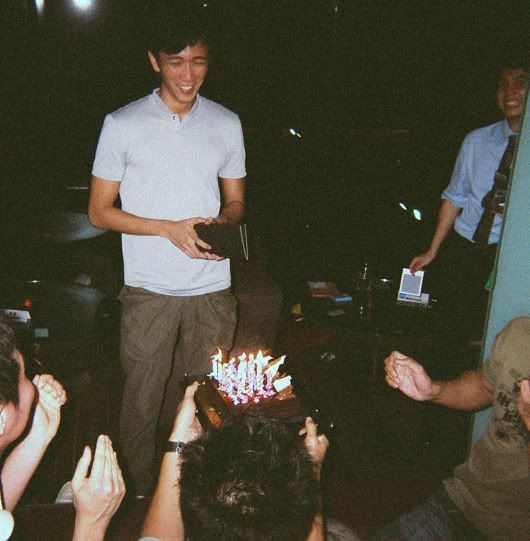 2. Surprised blows 2-centuries-old worth of three-quarter burnt 20 large candles and poses with them.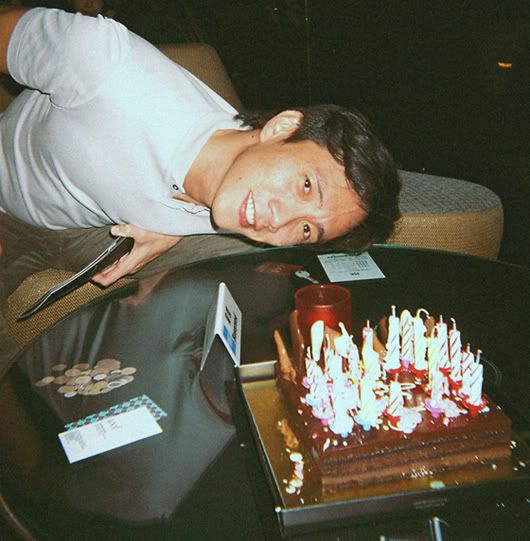 3. Scrape off the wax and eat the cake.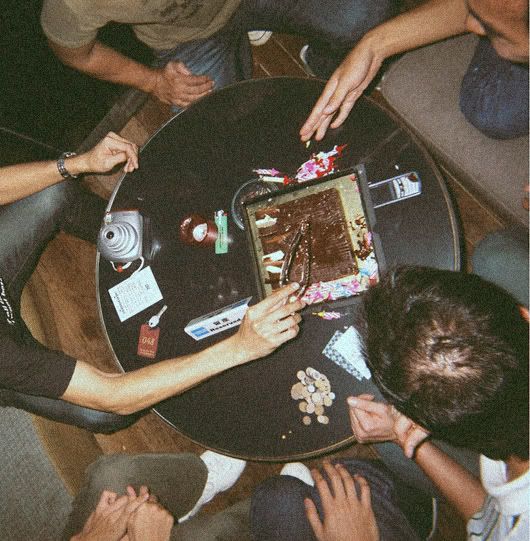 Happy Birthday Ash.
D woke up at 6/24/2008 10:59:00 PM [comment]
* * * *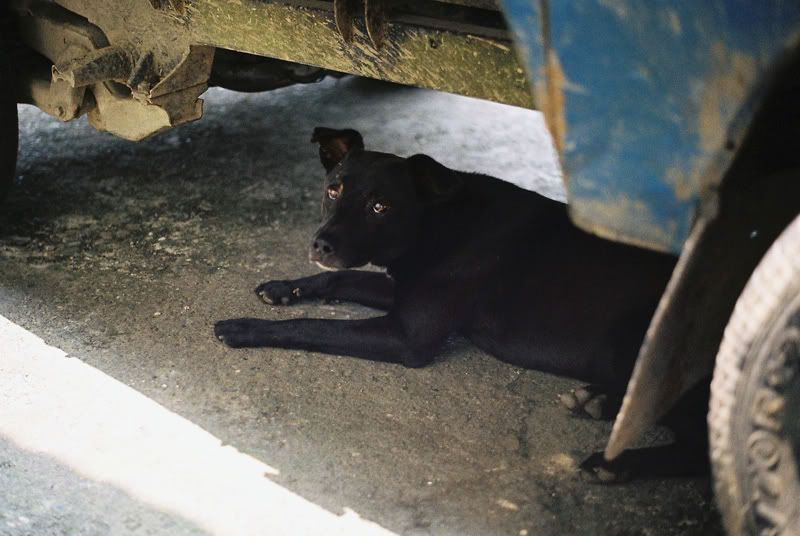 She rarely smiles and is fearful of strangers.
She sleeps;
And when she wakes up,
her face is often adorned in a fancy drapery of cobwebs.
D woke up at 6/24/2008 11:00:00 AM [comment]
* * * *
23 June 2008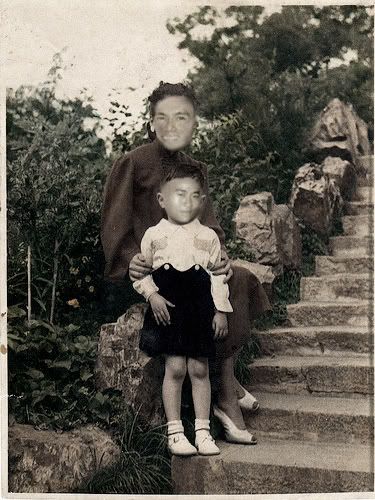 Found deep inside some drawer, a photo I took with Alex when we were both younger.
D woke up at 6/23/2008 10:47:00 PM [comment]
* * * *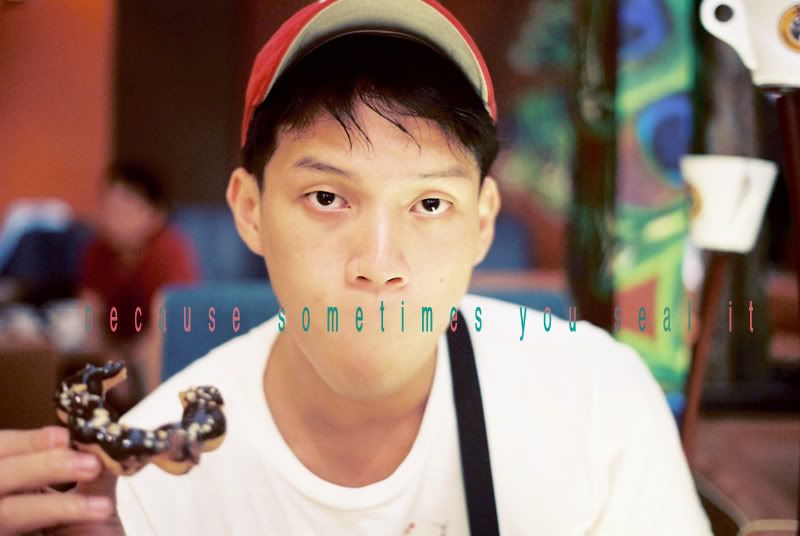 D woke up at 6/23/2008 02:16:00 PM [comment]
* * * *
18 June 2008
If only lovers could live,
(at least once a week)
in a vacuum.

D woke up at 6/18/2008 01:54:00 PM [comment]
* * * *
15 June 2008
I'm exhausted and consumed by an inexplicable lethargy.
It was so warm this afternoon, I crawled into the car parked at the side of the road, powered the engine and slept in the front passenger seat while I waited for you.
There was a certain calmness that's almost assuring in the quiet whirl of the artificial coolness - as if it were the one thing that's been missing in my life and it's found its way back.
I fell asleep.

D woke up at 6/15/2008 11:24:00 PM [comment]
* * * *
14 June 2008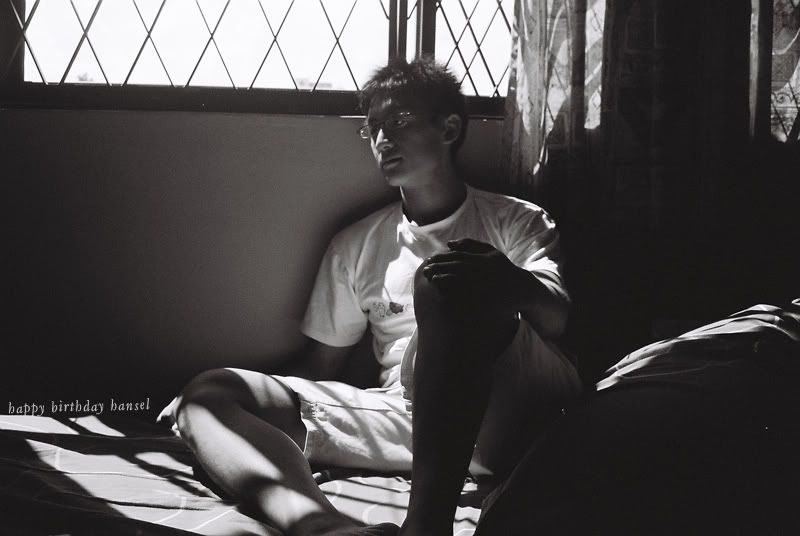 D woke up at 6/14/2008 05:00:00 PM [comment]
* * * *
09 June 2008
Boo's Workshop will be on coming Saturday, 14 June.
Tickets at $15.
Call 6221 4463 to reserve a place.
D woke up at 6/09/2008 08:32:00 PM [comment]
* * * *
05 June 2008
All On a Restless Sunday
Fujifilm 100 / Minolta SRT100b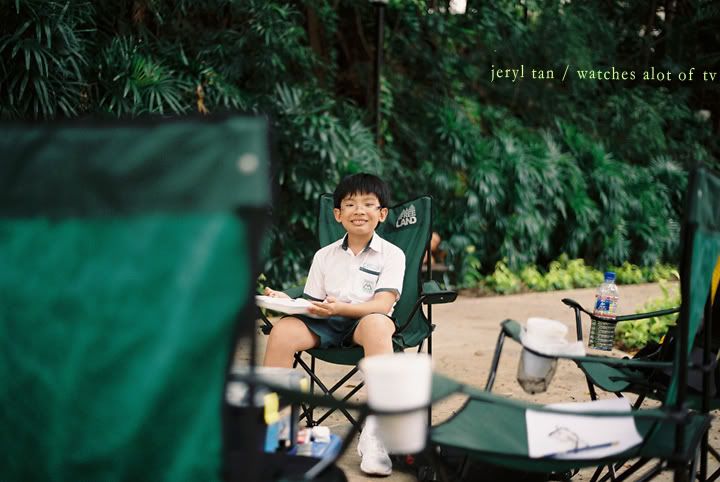 We went to a film set, "Nine Lives" - a student work as well as an experiment for the Global Positioning System and Singapore Tourism Board.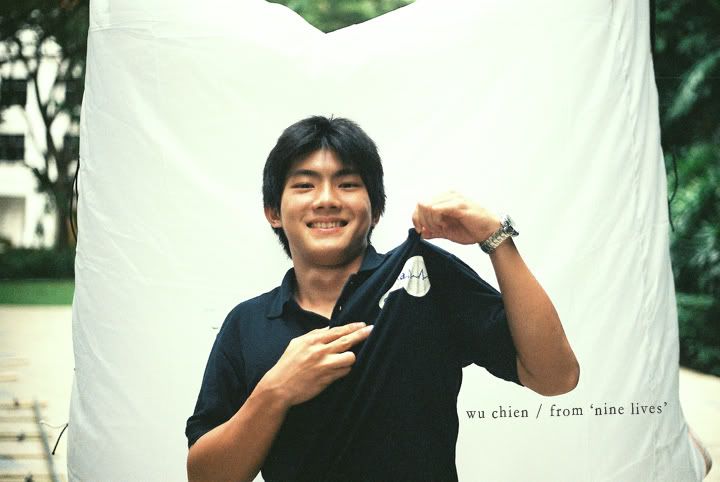 He viewed Empty Heart and was really distraught by the telephone call.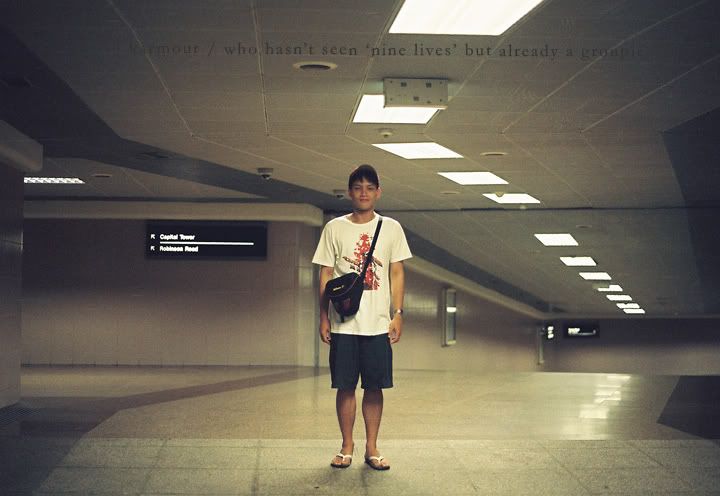 He made Empty Heart and was really distraught (but nonetheless still deluded) by Wu Chien's comments.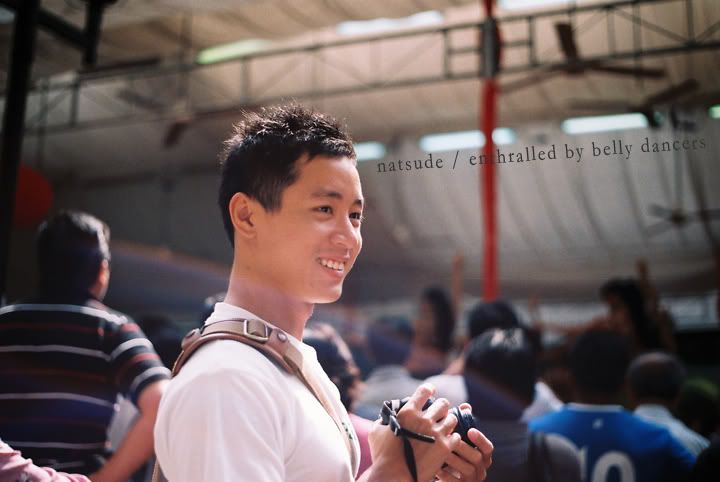 Who looks so fabulous here with a rainbow (the lens flare) splashed across his neck I wanna die. We asked him once if he knew which color was missing in the 6-color rainbow. He thought for a while and said, "Pink."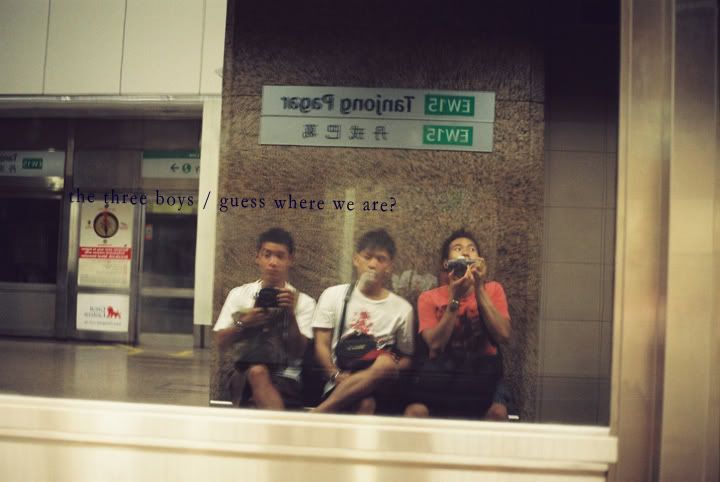 I need to wear my spectacles when I do manual focusing.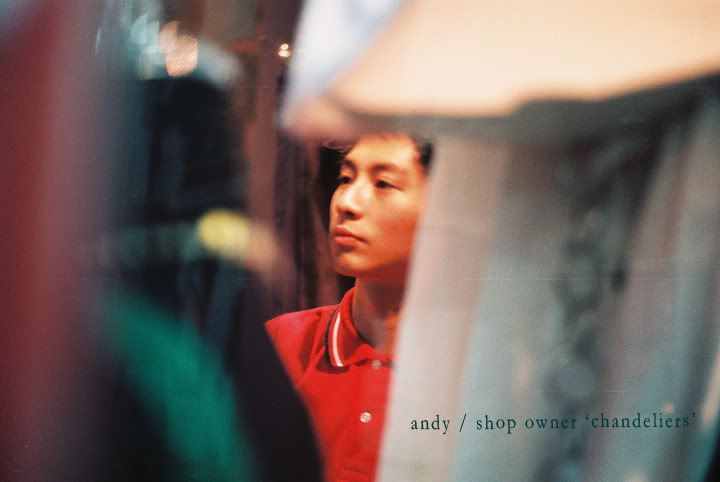 Or at least stop subjects from moving.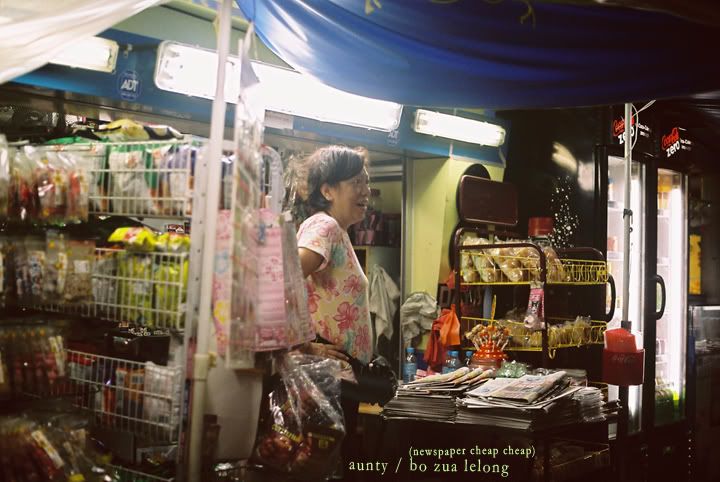 We bought a drink from the aunty before we took a bus home.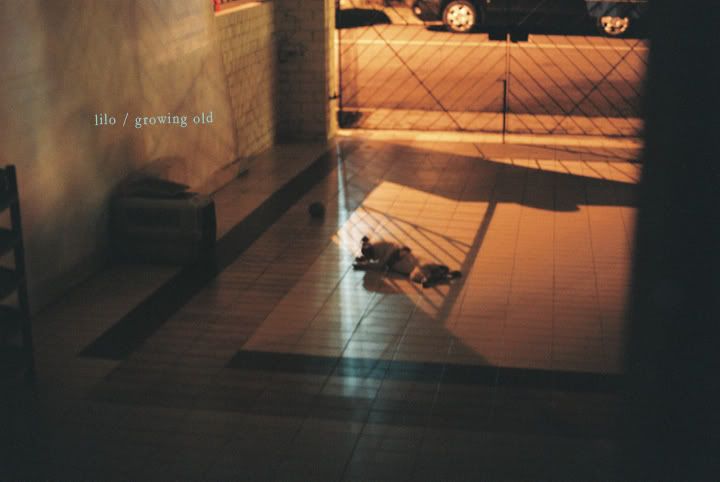 She stretched herself before I said goodnight and closed the door.
D woke up at 6/05/2008 09:55:00 AM [comment]
* * * *