31 August 2006
I received this painfully beautiful quote from Alfian today:
"I have found the paradox, that if you love until it hurts, there can be no more hurt, only more love." - Mother Theresa.
And a poem the day before, "..They're rehearsing for a parade, a quasi religious ceremony where men very much like you and I assume the status of deities. When the commanding officer inspects the men's dressing, it is basically that of a god delivering judgement on the worth, the worthiness, of offerings...here not candles or food but polished boots, crisp uniforms."
Of course, in a text message, you cannot really see the way a poem would look like on paper.
D woke up at 8/31/2006 06:17:00 PM [comment]
* * * *
29 August 2006
I remember residing in a tired corner of the sentry box, trapped and confined in a space meant for two, with three other people, reading. In that space, you could taste the odour of the other's uniforms effortlessly, weaving in between the tang of open lunch boxes and fresh dinner rations that lingers long after its mealtime. And the night, the stillness of the night, the night suspending your biological clock, you work through it.
But my thoughts – they roam, and the hours disappear like the sky that separates the day from the night; imperceptible.
Or else, the bunk beds with the sheets dyed with an unbelievable hue that exactly defines blue: I lie; I stare; I read; I sleep.
And yet, I complain about being confined. I was so free.
And now, my body moves with the momentum of the day and the syllabus, the course and the 'materials'. Sometimes I jog, the thread-mill, albeit, with the earphones attached and a TV Channel to entertain, but my mind leaves not the papers and the computer screen, the percentages, the scores, the expectations.
I wake up at regularly intervals to check if I have overslept.
I sleep regular hours so I can be sure I have enough energy.
And I'm free, otherwise.
D woke up at 8/29/2006 11:57:00 PM [comment]
* * * *
22 August 2006
I cannot bridge this gap.

On a happier bus ride home: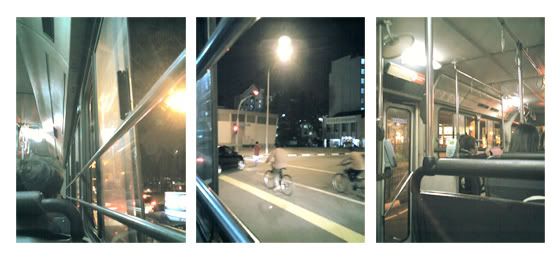 D woke up at 8/22/2006 11:04:00 PM [comment]
* * * *
Soon, I'd be consumed by the quicksand that is school, and all the work. In the meantime, some Buddhist words on love. Rather irrelevant to how I'm feeling now, which is no where close to being in love, but I found this extremely beautiful:

D woke up at 8/22/2006 01:29:00 AM [comment]
* * * *
19 August 2006
BYE BYE LOKEY
When he walked into the glass door that separated the travellers from the ones who couldn't and had to stay, I could only stay till the very end, just to wave along with the rest of the many people.
And as I walked out alone to my car, parked on the outside of the terminal, I couldn't help but feel a part of me has taken this early morning flight and flown away to a place that is far away.
Everybody would remember him this way: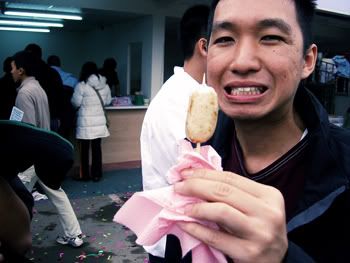 His signature look that is almost always painful, or in suffering.
And of course, his long lashes.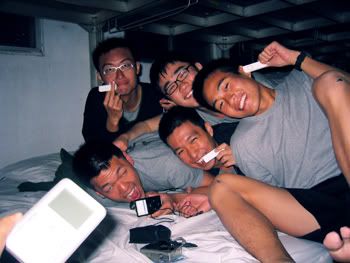 His influence on those around him. Everyone in the picture now owns at least an iPod, and an expensive earphone. Indeed, we will miss his 'audiophilic' commentary and Steve Jobs shrine.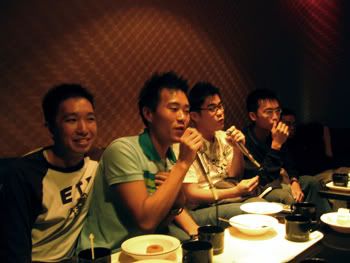 And his singing voice, that is halfway between Mariah Carey and Stefanie Sun, depending, of course, on the language.
I never started to get really close to him until the end of our army career, probably when we were in Taipei.
But I am already starting to miss this boy who is as crazy as me.
A photo in Taipei:
A photo that would have to last for, at least, a year: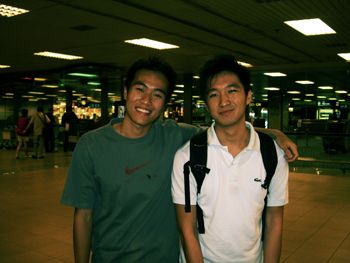 D woke up at 8/19/2006 06:10:00 AM [comment]
* * * *
18 August 2006
School starts proper on Monday. I have mixed feelings towards school. I hope I'd still be able to do the things I love to do while I adapt to the pace of a really brand new life. So, I've decided to post these postcards and banners that I've been contracted to produce and design early this year. Though it isn't a great deal, I hope these might land me in more sideline jobs.

In the meantime, Happy 22nd Birthday to my model and my childhood friend who is incidentally my cousin.
I'm sure she would not like this.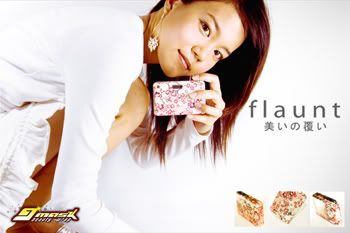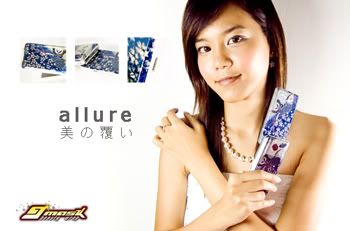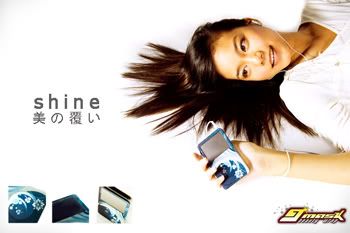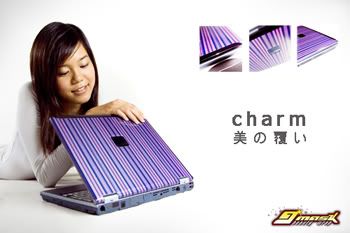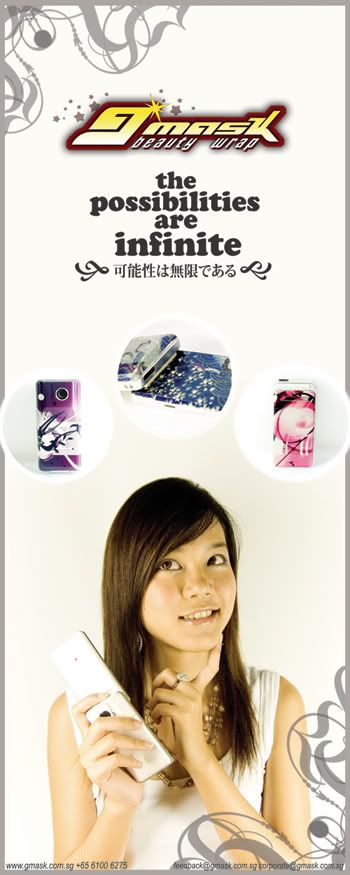 D woke up at 8/18/2006 12:16:00 PM [comment]
* * * *
12 August 2006
A FAREWELL DINNER, AND MORE FAREWELL MOMENTS TO COME
.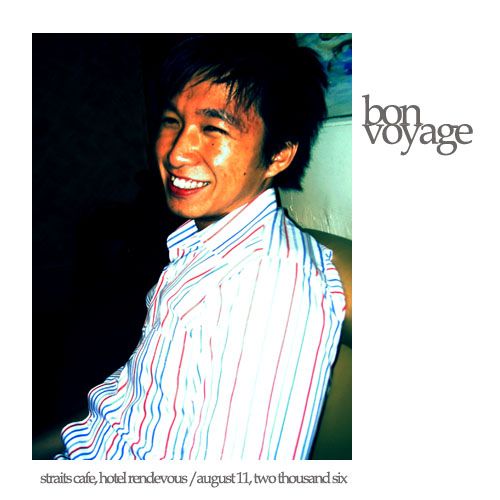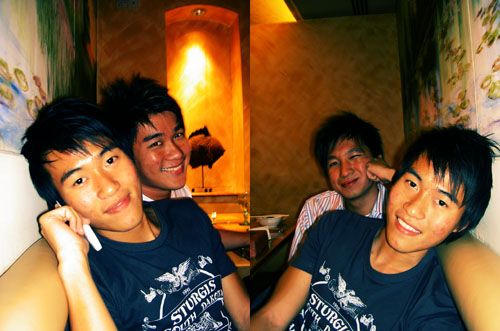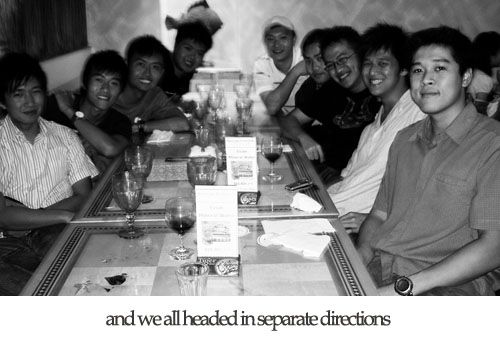 Loo was there too but he left before all the photo whore-ing began.
I'm beat now.
And extremely full.
D woke up at 8/12/2006 03:37:00 AM [comment]
* * * *
06 August 2006
I panicked at the sight of you. Your dark skin illuminated under the lamp of the store, a stark contrast to those immaculate white teeth; a wondrous image which, as we conceeded when we first met that life is alot about the right timing, I might not be able to embrace. I chose to flee, without notice.
I'm unable to sleep, manifested by this guilt and remorse that perhaps, I have let you down.
D woke up at 8/06/2006 01:03:00 AM [comment]
* * * *
04 August 2006
Somebody needs our help.
A Plea for Help
Life's too bloody short.
D woke up at 8/04/2006 01:13:00 PM [comment]
* * * *
It began with a trip to school, an admission brief, which really brightened my presently bleak outlook towards it. I was told there might be a Hospitality major coming up and that might just be what I can be interested in, other than Marketing, which would otherwise be generic.
Next it was brainless work at Vox, which was fun for the company and while it lasted.
I participated in a reading tonight and it was a brief presentation of a collaboration between Alfian and I. A really condensed one, I must say. But there were people who loved it and I'm happy.
Friends friends friends. They do remind you that you're alive and well in the world.
Busy but gratified.
D woke up at 8/04/2006 12:58:00 AM [comment]
* * * *