20 February 2008
Every time I get these petty kicks I feel so vulnerable and suffocated I don't know why I land myself in such a situation in the first place and I try and try but I do not see how it's such an easy point to note but also probably easily dismissed but I guess that's the way with it: either I live with it or I don't - and frankly there are moments when I do not know if I can hold out for that long.

I used to love Tuesdays but now I don't really know what they mean.

D woke up at 2/20/2008 01:08:00 AM [comment]
* * * *
17 February 2008
Still on Film
We brought Ho Jung (the bespectacled boy in the foreground), CM's Korean tuition kid to Chinatown to experience the New Year.

Chinatown is the best place to teach anyone about En Bloc.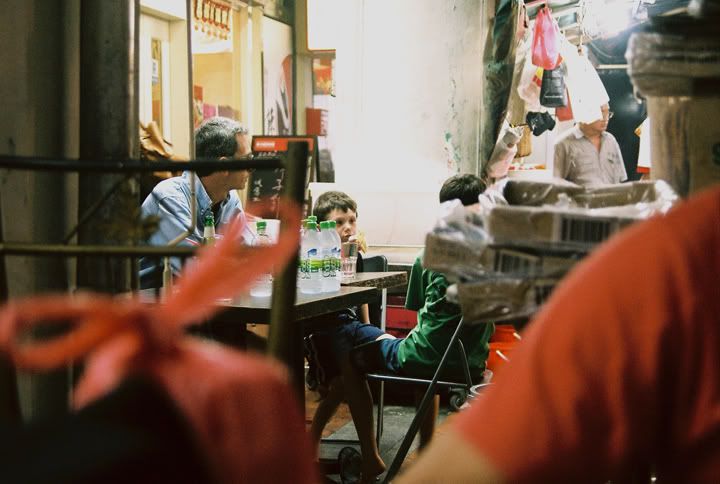 And also the pride of Singapore Tourism Board.

* * *
CM took these: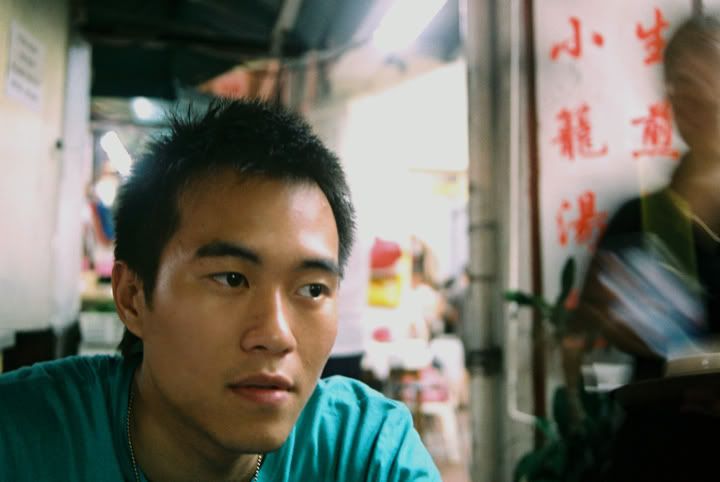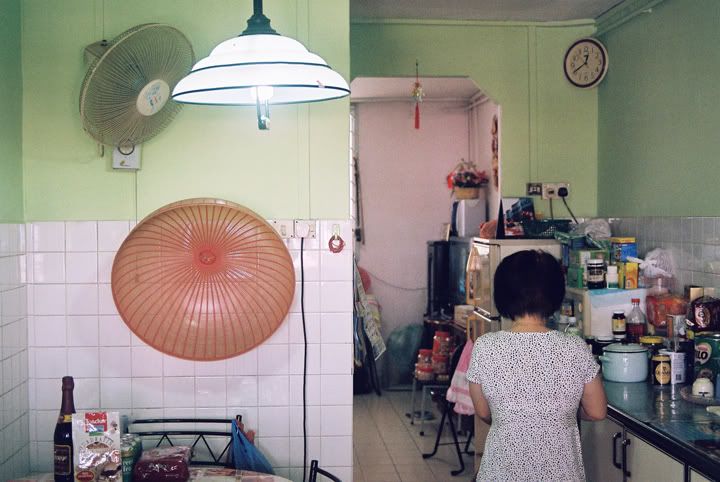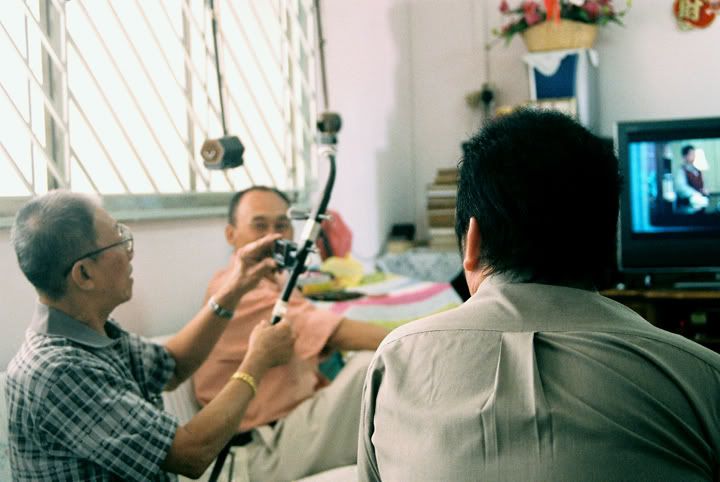 D woke up at 2/17/2008 02:38:00 AM [comment]
* * * *
15 February 2008
My sister-in-law has a penchant for positioning various seasonal flowers in the bathroom. This one beside the sink has been withering for the past three days and it is still there sitting beside my shaver and toothbrush. I don't know why people rear anything at all if they don't intend to care for it. Lilo is an example. I think she needs Valium. I used to love dogs, but after living with one, I think pets need all the love we can give but we often reserve that for someone else.
D woke up at 2/15/2008 11:18:00 PM [comment]
* * * *
After all,
only
light
.
D woke up at 2/15/2008 03:30:00 PM [comment]
* * * *
14 February 2008
Temple, Eunos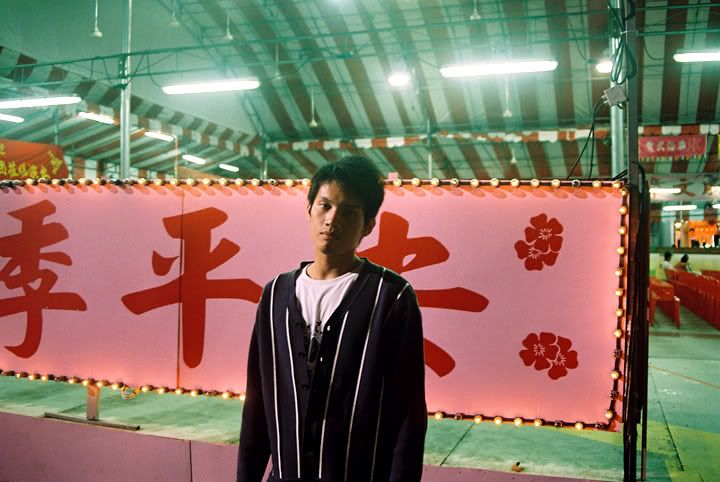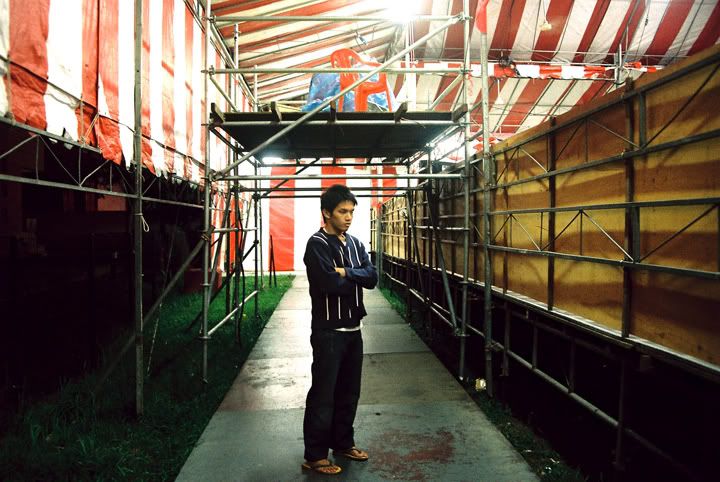 I have been shooting on film.
I love filem.
D woke up at 2/14/2008 02:13:00 AM [comment]
* * * *
I finally developed the roll of black and white film in the Ricoh 35ZF, a camera that Zhiying bought for a few dollars in Goodwill, taken over the premiere of Alfian's Happy Endings to about November last year.
Two Shots:
D woke up at 2/14/2008 02:07:00 AM [comment]
* * * *
Number 27, 28
On Film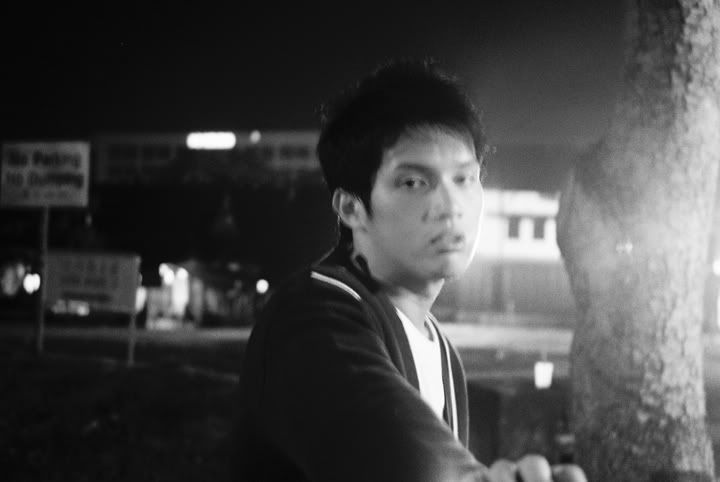 D woke up at 2/14/2008 02:05:00 AM [comment]
* * * *
12 February 2008
You were visibly happy today.
We visited the stage where your parents once sang. I was fascinated with the flickering yellow light bulbs but was even more excited to learn that your sister too was once a performer. You said you hid behind the stage whenever she sang. That was a reply to my question about your performing experience.
Tablets of Chinese horoscopes lined the aisles of the temple. Both our signs, the Rat and the Ox, said it was a good time for marriage. As I pointed that out to you, your face turned a little red, flushed, or perhaps, it was the glow emanating from the red lanterns hung like a million stars above our heads that was on your face. You smiled.
You took your last cigarette before we got into the car, where I took the last two shots, Number 25 and Number 26 and you said, "Can I listen to Max Ritcher?"
12 o'clock. And I wonder how this dawn would be like for the both of us.
D woke up at 2/12/2008 12:23:00 AM [comment]
* * * *
07 February 2008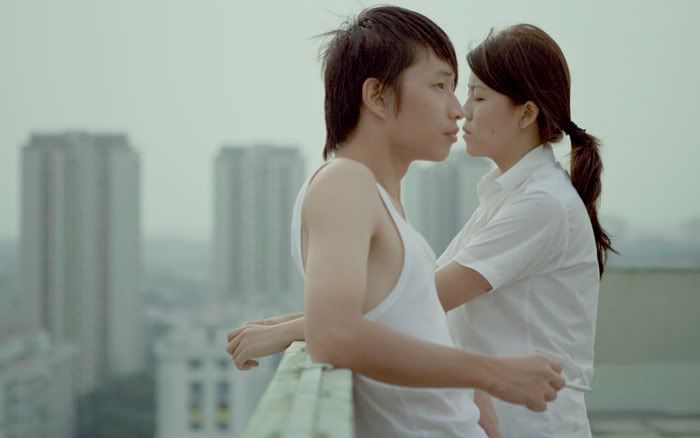 The
website
is now online, there are stills, trailers, and much more.
All the best in Berlin, Anthony!
D woke up at 2/07/2008 11:49:00 PM [comment]
* * * *