20 August 2005
I went to Lakeside on Thursday night, after an utterly atrocious "Seven Swords".
My friends almost always fall prey to my primal shutterbug instincts and here we are, caught in the frame of the lenses, somewhere in time.

LAKESIDE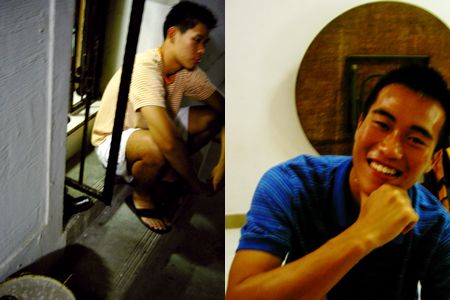 And so we stood, looking out towards the lake, the street lamps illuminating the spiral pathway. My camera was exposed on 15 seconds. And we waited. 15.. 12.. 8.. Snap. Click. My camera recorded a world that was brighter than it was in reality. And in it, the colours glowed in basic hues, intensified, and blurred.
We were walking around the lake, trying to think of lines to say in the video, but we almost always lost focus. My camera, however, never did. We spoke endlessly. And when time was up to do the video, we simply improvised.
My camera is my best friend. My camera and my best friend.
The past week had been tumultuous. A long route march punctuated with a cooling river crossing in between, a long endurance run, a house arrest I had to execute - handcuffing the boy in front of his crying grandmother, an episode I would never forget.
And after all that I felt I could exit the dimension of construcuted speech and language, of vowels and alphabets, and understand, by the sublime movements of the human body.
If you watch American's Next Top Model, I love Kahlen. She's the prettiest thing I've ever seen.
D woke up at 8/20/2005 01:36:00 PM [comment]
* * * *