20 September 2007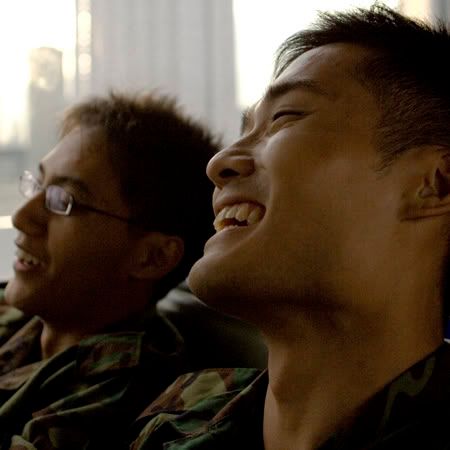 I forgot about this photograph until Daryl asked me for more of him on set the other day.
It reminded me of my army days and of how I will never find another gem of a friend like Loo. School days always make me want to go back to the last few months of army when I'm just running in the mornings, sleeping to avoid the heat of afternoons and then drinking beer merrily at night at Walas Walas.
We often took the bus, shuttling from camp to town to Holland Village. Loke, Elvin and I would talk about everything under the sun from films to music to irritating camp mates. It was always in the evenings, after 7, right before the sunset. Loke was depressed once, I remember, when he was told there'd be no nights off for the day. When I think of Loke, a smile stretches across my face. Just like when I think of Elvin and his impending trip to Taipei in December. For my friends, there is more life outside school worth worrying about than the project that is due tomorrow.
I was walking home today, skipping two classes for the first time this semester, and I kept wondering if there is more to life than this accelerated pacing of school and work. I ate from my can of wasabi chips (it says 'mild salt') and I just laughed. Silly me, why think when I can taste. Why think when I can stroll. Why think when I can listen to my iPod. Why think, when I can see?
Why grieve, when I can smile?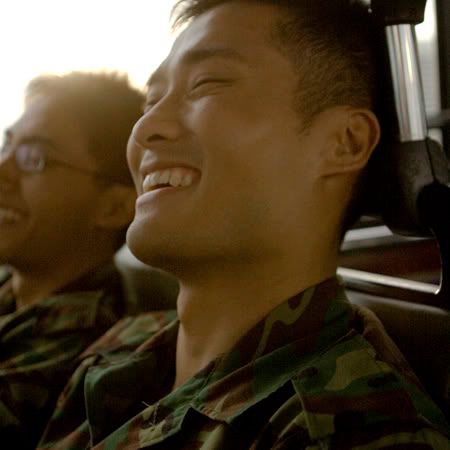 D woke up at 9/20/2007 08:02:00 PM [comment]
* * * *