06 November 2008
Been busy with a couple of things on top of my school + radio combination. School is also hitting its high note now, i.e. we're closing in to exam time after these two hellish weeks of submission deadline concentration.
On top of that I've also not picked up the camera for a while, just because I think I bore myself.
I've been trying to see new frames of light, new composition, new subjects.
But somehow I don't find them.
I also met a few strange people over the course of my work. There was a performer who thinks too highly of himself. (We don't need the interview if you don't want to be interviewed. We can simply not feature the show.) There are those who think the media has an obligation to PR firms and their press releases. And then there are the school kids who are just, well, too smug but not smug enough to want to do all the work.
I haven't seen my mother for a week now because of our differing and erratic schedules. She sends me an email and tells me to take care of myself.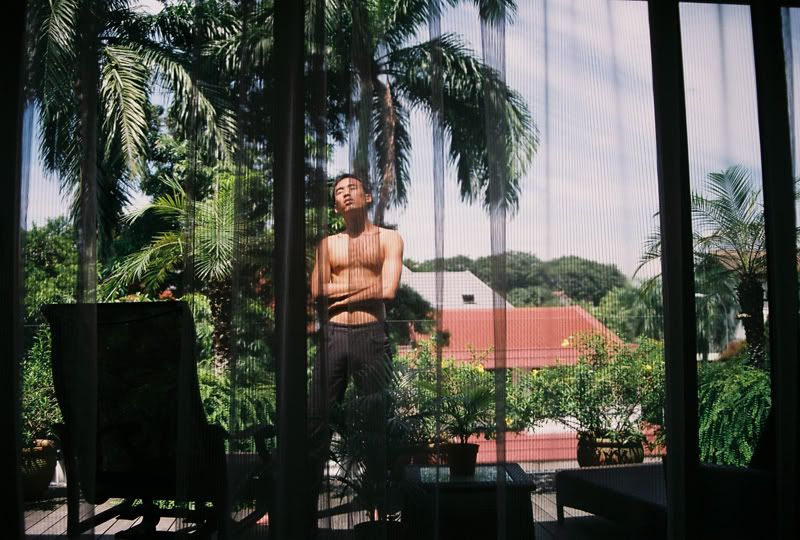 Photo by: Koo Chia Meng
Man in a Snowglobe is my first attempt at being a Director of Photography. It's shot on a HDV camcorder that's rather no-frills: no fully manual mode, a small manual focusing 'roller' that has no distance meter, placed on a portable dolly and a creaking tripod and shot mainly over two full nights which were supposed to look like day.
I am always blind to the emotional context of the film when I am involved in production, but when I viewed the key scene, I shivered. And Darren's music continued to ring in my ears,
I like this photo of Kelvin, a scene which doesn't happen in the film. But I like the stillness of everything. And I wished I had time to contemplate the silence.
D woke up at 11/06/2008 04:49:00 PM [comment]
* * * *