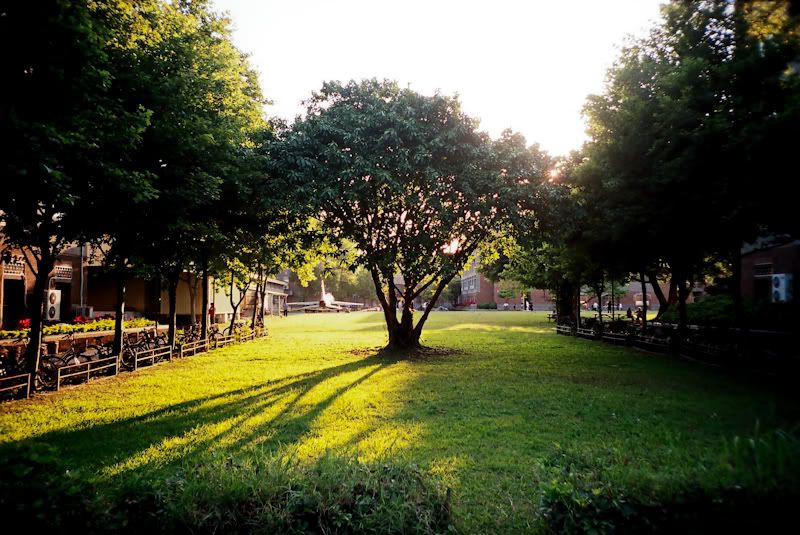 Near my school's back gate, in the evening, my cycling route to a stretch of diners or to a train station that would bring me to town.
I am fully aware of how I am setting myself up again and again for a catastrophic flood of yearning for this place when I am home again, this place with its quick and deeply moving light, and passionate, good-spirited friends. I am consuming them all in amounts that are larger than what is healthy for a rational, easy retreat when it is due, and painfully inevitable. "A month's time," I slowed down a little in my reply, when I realized that while the answer was reflexive, the sequela came much later, or earlier, depending on one's perspective.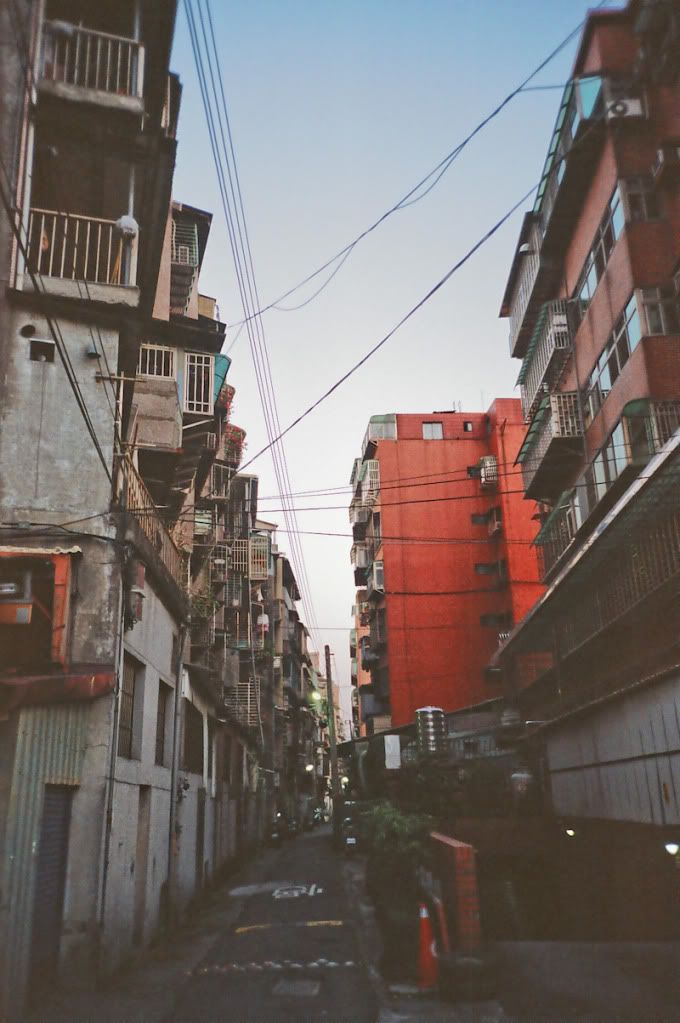 I was alone that evening and a little homesick, so I thought it was time to abandon my bicycle to take a walk around the vicinity. Before I got my bicycle, I reasoned, I saw
more
. That was when I fell in love with the city again, the freedom I saw in its disordered wires that were functioning and never rioting, how if I took turns in the corners I would find strange cafes and bookstores and wonder if they'd be elsewhere next summer. No one spoke about the graying walls or rusting metal almost as if they'd replace themselves quietly. The Taiwanese understood that perhaps only until they retire themselves, they should be respected. We need not always make room for the new.
A typical meal I would have when I eat alone.
I know CM is afraid of being alone, as much as he would never admit it. But I know, because he would seek company in almost everything he does, especially meal times. My turning vegetarian is the most isolating thing I'd ever done to him. I can already imagine how he would crave for fried chicken wings in the middle of the night and the coldness of him having to eat them alone.
I've been waking up early to read, sleeping earlier too, save for nights that are spent at the bar. "Regular hours," as my Mom would have said. The entire journey was relayed in my head last night as I saw countless questions that swirled around me when I was back home, being resolved one by one back here. They were not completely answered, but at least I knew for once, what I had to do.
Oh, and of course, there is the one that I've met, that would linger in my thoughts for a lifetime.